By Evelyn Usman
Evangelist Timothy Gabriel, a self acclaimed servant of God, is well known around Oke-Afa and Jakande estate in Isolo area of Lagos. Reason being because whatever he prophecy comes to pass.  It was therefore, not surprising that his Ronik abode in Ejigbo area of the state was usually a beehive of activities; especially for those who are spiritually challenged.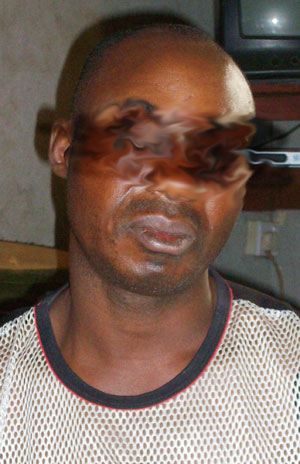 However, things seem to have fallen apart for the Anambra state -born evangelist as he was caught pants down Tuesday last week, attempting to rape a middle-aged  woman. The woman, (names withheld) was said to have invited Evangelist Timothy to her matrimonial home, to offer prayers owing to a lingering spiritual battle. Unknown to her the evangelist had something else up his sleeves as later event clearly showed.
"Immediately he came in , he first asked if my husband was around and I said no. The next thing he did was to pull off his clothes , inviting me over. I screamed and my siblings whom I had earlier invited rushed out of the bedrooms and accosted him," she said
Still finding it difficult to get over the shock, the woman told Crime Alert that Evangelist Timothy approached her on December 31, 2010, in her office around Ejigbo, claiming that he had a solution to her problem.   According to her, " He said God told him he would use him to solve my problem. He thereafter, asked where we could meet for prayers  and I told him my house would be better.
So yesterday, (Monday) he called to book an appointment for the prayers today(Tuesday). I quickly put a call across to my siblings since my husband would not be around. When they came, I asked them to stay inside the rooms while the prayers would be going on because I did not want to take any chance.    Finally , the evangelist came and started behaving funny , consequent upon which I raised an alarm"
Confession
When Crime Alert demanded to hear from Evangelist Timothy's side of the story, he went on his knees begging profoundly while admitting that all the woman said was the truth.  Upon insistence, he burst into tears lamenting;  "My enemies have got hold of me.
This is all the handiwork of the devil. It was a clear temptation from the pit of hell and I have fallen into it".( he sobs)
Continuing after pausing for a while, Evangelist Timothy who was ordained six years ago in the Anglican church said , "actually I am a prophet of God and I see vision. That is my calling . But because I would always say what I see which usually come to pass, some people, even in my church were not happy with me. .
"As for this woman, she happens to be my customer . I used to type documents in her shop and I also buy recharge card from her since last year. Most times when I come to her shop, we used to share the word of God together and along the line, a message came that she is lacking something vital". At this point Crime Alert interrupted, demanding to know what she lacked and he said, " a child".
He continued, "A message came that she should pack all the clothes and shoes she is no more using, to her church and place them on the alter when there is no service. I also told her as instructed by God to place two chairs , sit on one and place the other in front , inviting God to sit. Then she is to cry to God and tell him to answer her this year. That was exactly the way I received the message from God".
But on what attracted him to the woman which necessitated him attempting to have a canal knowledge of her, the father of two with the third on the way, simply said, "it was the work of the flesh."
Still professing his love for God, he recalled that even on that day while he was inside the woman's flat, 'the Spirit of God' cautioned him but he failed to harken to the voice.
" At first I told her we should meet at the hotel but she said it would be better we met in her house.  I insisted we met in  the hotel because I saw it as the height of indiscipline and total disregard to marriage if I should have carnal knowledge of her in her matrimonial home.
" So on that day, I bought a fruit juice and a tin of milk to give to her. But on reaching her flat, the spirit of God cautioned me. But I failed to listen. I knew all was not well but could not pin-point what it was. Even when I started pulling my clothes she just stood transfixed watching me. I did not know she had something else up her sleeves, until she called out to the people inside"
Regrets
First,  I have disappointed God who has been merciful and kind to me. How will I face the congregation? What will I explain to my wife? Please help me beg her to forgive me. This is all the handiwork of flesh after all, I am married"
However, whether his plea would make any meaning to those who apprehended him and who has vowed to call in the police, only time will tell.
Subscribe for latest Videos