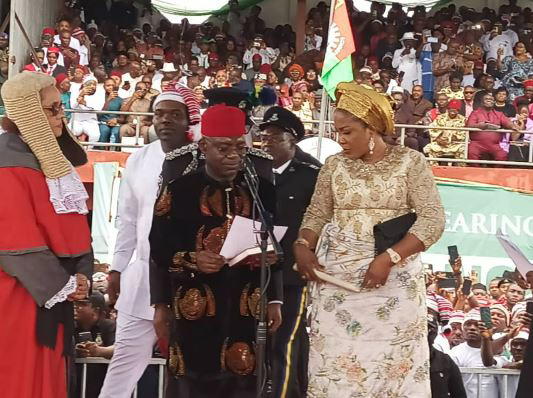 …Promises to pay workers 28th of every month
…Declares state of emergence on wastes
By Steve Oko
Abia new Governor, Dr Alex Otti, has assured Abians that their days of grief and penury occasioned by bad governance were over, declaring that he has come to dry their tears.
Otti who gave the assurance during his inaugural speech after taking oath of office at the Umuahia Township Stadium, Monday, declared that with effect from June, workers in the state would receive their salaries on the 28th day of every month.
He also promised to abolish "the criminal disparity" in payment of core civil servants and workers in parastatals and agencies as practiced by his predecessor, assuring that all workers will get paid at the same time.
" It gives me pleasure to announce that within the next few days, we shall commence the payment of May 2023 salaries and pensions to all civil servants and retirees in the State.
"There shall be no more distinction between the so-called "core" and "non-core" civil servants. This is a disingenuous expression that was used to hide the wicked habit of owing salaries.
"Whether you are a teacher in a primary or secondary institution owned by the State, a staff of the public health establishments, local government, or work in the judiciary, you shall, beginning from this May, earn your legitimate entitlements as and when due.
"From June 2023, all salary and pension obligations of the State would be settled by the 28th of every month. My commitment during my campaigns to pay off all outstanding salary and pension arrears remains sacrosanct.
"Within the next one week, I shall set up appropriate mechanisms to ensure that all legitimate employees and retirees are identified and paid their due entitlements."
" My task is to dry your tears and help you to rediscover who you are and lead you back to the pathway of sustainable growth, development, and prosperity", Otti declared."
Otti appealed to Abia workers to suspend their strike and help him re-fix the state.
"For all citizens and residents of God's Own State, this is a time to rebuild. We are fortunate that destiny has placed before our own generation the onerous but historic task of replacing what the flying and creeping locusts, masquerading as leaders, may have consumed these past years. "
Otti declared that Abia would no longer be held bound by cabals, saying that his emergence has ended the era of political servitude.
"Someone should go and tell them that we have decisively broken free from our bondage. We are finally heading to our Promised Land, and we have resolved that we will no longer serve Pharaoh! "
Otti declared state of emergency on waste management to restore the sanitary condition of Abia State.
"A healthy urban environment shall be a major priority for this government. To that effect, I am immediately declaring a state of emergency on refuse disposal and waste management in Aba and Umuahia.
"I am hereby directing the leadership of the state's environmental management agency, ASEPA to roll out everything at its disposal and see that all refuse heaps within these two cities are promptly evacuated.
"In due course, we shall announce an enduring model to address the challenges of the environment and the future of ASEPA."
He promised to fulfill his campaign promises to rebuilding and repositioning Abia, and not to look for excuses for failure.
"Our social contract with the good people of Abia State, is that ours shall not be a government of excuses and finger-pointing. We have taken time to review the situation and we already have a clear understanding of what is expected from government. Abians will no longer need the media to tell them what the government is doing in their communities; they will directly experience real development themselves as it occurs. "