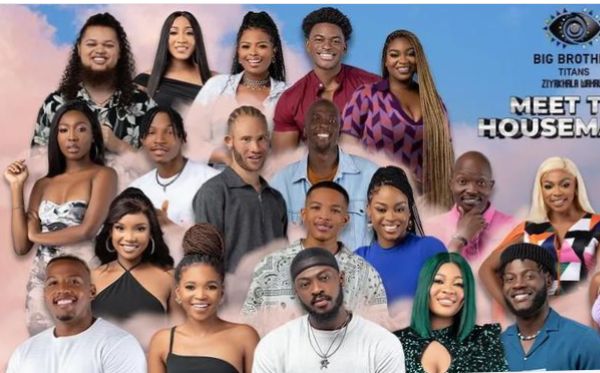 By BENJAMIN NJOKU
After 76 days in the house, the stage is now set to declare the winner of the maiden edition of Big Brother Titans, BBTitans reality TV show, this Sunday, as six housemates battle for the grand prize of $100,000.
The show, which premiered on January 15, 2023, in South Africa with 24 housemates is left with six housemates who will be battling for the grand prize after last Sunday's eviction of three housemates including Thabang, Justin and Blaqboi.
Interestingly, the lucky finalists are the trio of Nigerian Yvonne, Ebubu, and Kanaga Jnr and the trio of South African housemates, Tsatsii, Khosi, and Ipeleng.
Fans of the show are bound to expect nothing short of a showdown, intrigues and entertainment as it rounds off tomorrow.
Being a special edition-an fusion of two TV phenomena, BBNaija and BB Mzansi', BBTitans from inception is filled with an abundance of Nigerian and South African swag, banter, twist, romance, and everything in between. But after 76 days of the show, it's better imagined than said if the show has lived up its billing.
Despite clashing with the just concluded general election in the country, which many believed affected the viewership of the show back in Nigeria, BBTitans on its own merit, can be said to have provided intense drama and entertainment while it lasted.
Meanwhile, from the look of things , each of the six finalists stands a chance to coast home to victory. But for Nigerian housemates, what will work in their favour among others are the strength of their competitiveness, strategies and of course, being the viewers' favourite.
Starting with Kanaga Jnr, who narrowly escaped last Sunday's eviction, having clinched the 4th lowest votes after Nana, Blue Aiva and Miracle OP who got evicted may spring up a surprise at the grand finale. His youthful appeal posture may be an added advantage to the model and aspiring actor.
Even as 28-year-old Yvonne is not backing down for any reason. Though many are certain she may be the first housemate to be evicted in the face of stiffer competition tomorrow. But as it were, Ebube is tipped to win the grand prize, not because he's the first albino to come this far in the show, but because of his charisma and the most talked about housemate in this season. He was introduced to the titans house to the surprise of everyone and since then, he has remained the favourite of fans.
However, the Afrobeats singer has the likes of Khosi, Ipeleng and Tsatsii from South Africa to beat in order to clinch the grand prize. For anyone, Khosi is a strong contender, who stands a better chance to make history at the grand finale.
BlaqBoi after his eviction last Sunday tipped either Kanaga or Khosi as eventual winner of the show.
"For Khosi, I love her ideas and Kanaga is my boy so any of them are good," he said.
Just like Khosi, Ipeleng who prides herself as an aspiring content creator is also a favourite of fans. She has put up a good show, with swagger and posh. Ipeleng , shocked her fellow housemates when she won Head of House games in a dramatic manner, catapulting to the grand finale through the supreme Veto power that was vested in her last Monday. She may repeat the feast this Sunday. And of course, Tsatsii, who hails from Pretoria looks harmless, yet desperate to carry the day. Being a Big Brother fan, there's no better gift for the 23-year-old housemate than smiling home with the grand prize of $100,000.
Certainly, there will be one winner at the end of the show. Could it be Nigeria's Yvonne, Ebubu, and Kanaga Jnr or South Africa's Tsatsii, Khosi, and Ipeleng? Tomorrow will tell…