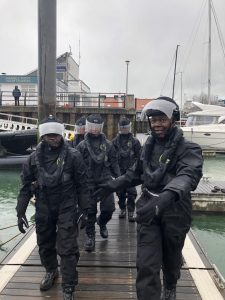 No fewer than 35 officers of NDLEA Marine Command and Seaports Operations have completed specialised training in Nigeria and the United Kingdom to enhance their operational efficiency.
The Director, of Media and Advocacy, National Drugs Law Enforcement Agency (NDLEA), Mr Femi Babafemi said this in a statement on Saturday in Abuja.
He said that the training was facilitated by British Military, Nigerian Navy and the United Nations Office on Drugs and Crime under the Global Maritime Crime Programme.
Babafemi said among the 35 marines were five officers undergoing a two-week Maritime Patrol and Tactical Coxswain training at Central Maritime Training Unit in Southampton, UK.
He said that the training was to enhance NDLEA's border control and use of advance drug detection equipment, including undergoing mentoring in specialised areas.
Babafemi also said that key areas included boat and weapons handling, riverine operations, boarding and vessel search, among others.
He added that the ongoing two-week training would enable them plan maritime deployments, pursue, stop and board vessels on the high seas.
Babafemi quoted the Chairman, NDLEA, retired Brig. Gen. Buba Marwa as thanking the UK government for its support and commitment to enhancing the capacity of NDLEA to tackle drug trafficking.
Marwa urged the officers to remain steadfast in their professional calling and bring to bear what they learned in the effective discharge of their duties.
He pledged to continue to prioritise training and retraining for all officers, men and women of the agency.
Meanwhile, Kris Hawksfield, Regional Manager West Africa, UK Home Office International Operations, who visited the team undergoing training in Southampton, said they were immensely proud to work with and support the NDLEA.
Hawksfield said that the UK remained committed to strengthening mutually beneficial works of the agency.
He said that this was necessary to ensure interdiction, seizure and destruction of illicit substances and drugs which would be of harm to Nigeria and the UK.