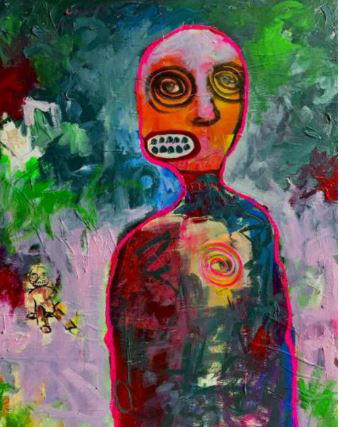 By Osa Mbonu-Amadi, Arts Editor
When young Nigerian artist, Gabriel Jideonwor showed at the 2021 edition of Biennial of Sacred Contemporary Art, in Menton, France, a strong message of emerging energy from Africa was felt.
Jideonwor, who is also the CEO of Vivid Exclusive Art Gallery, Lagos, was privileged to show his art at the event that featured works of masters such as Banksy, Jean-Michel Basquiat, Salvador Dali, Damien Hirst, Yayoi Kusama, Roy Lichtenstein, Henri Matisse, Henry Moore, Edvard Munch, Pablo Picasso, Mark Rothko, among others.
Located in Bacs Palace of the Ambassadors 3, Rue Partouneaux – Menton, France, the Biennial of Sacred Contemporary Art showcased more than 150 artists from 18 countries. The 2021 edition of the Biennial consisted of both the departed and living masters.
Two years after the 2021 Biennial of Sacred Contemporary Art, Jideonwor hoped to use the advantage of having been the only artist from Africa at the event, to take his art higher. The artist recalled that his participation at the global event was a milestone.
"Showing at Biennial of Sacred Contemporary Art was a milestone for me, representing Nigeria and Africa," Jideonwor enthused. "It's a plus for art in Africa and I was happy to see that most young persons responded with great enthusiasm when I posted the event on my social media platforms."
The event has come and gone, but Jideonwor would not stop building on that achievement to take a new leap in his studio and gallery businesses. He is not just working on his career, but extending to other young artists. He said: "Young artists of my generation who are yet to get exposure come into my focus, going forward into 2023 and beyond."
And with the current economic crisis, what is his next or immediate plan as both artist and gallery owner? "Consistence is always my watch words. Consistence in painting, to keep pushing, even when things are not going well."
For his Vivid Exclusive Art Gallery, the focus is not just on established artists, but also promoting new artists. "We have more young artists on our list that needs exposure to make sure that the art market takes care of them as well."
Jideonwor's passion in promoting artists and art of African origin kept growing. Towards the end of last year, Jideonwor's Vivid Exclusive Art Gallery showed a group exhibition titled 'No Pain No Gain' at the top floor of The Wings Complex, Victoria Island, Lagos.
In 2017, he launched Vivid Art Gallery at Abijo business district, Ibeju Lekki, along Lagos-Epe Road. When the gallery came into existence, Jideonwor stated that the need to expand art appreciation beyond the regular space "by testing other areas" informed the choice of the first outlet.
Two years after, Vivid Exclusive Art Gallery made another landmark when Jideonwor opened a branch at Lekki Gardens- Phase II. During the COVID-19 pandemic, Jideonwor converged over 30 artists in a group art exhibition titled 'Inside Life' at Vivid Exclusive Art Gallery, Lekki Gardens Phase II, Lagos.