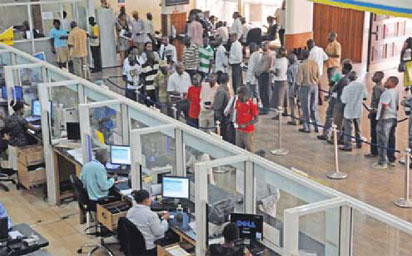 Banking hall
By Babajide Komolafe, Economy Editor
For the first time in four months, banks increased loans to consumers by 3.4 percent to N2.34 trillion in November last year, driven by yuletide preparation spending.
Consumer loans are money lent by banks to one or more individuals for household, family, or other personal expenditures.


According to the Central Bank of Nigeria's, CBN, November Economic Report, consumer loans rose, month-on-month, MoM, by 3.4 per cent to N2.34 trillion in November from N2.372 trillion in October.


This is in sharp contrast to the three months consecutive decline recorded between August to October last year. CBN data showed that consumer loans fell from N2.549 trillion in July to N2.432 trillion in August, to N2.4 trillion in September and to N2.372 trillion in October.


The apex bank in its economic reports for August to October explained that the steady decline in consumer loans was caused by two factors.


The first factor is the tight monetary policy stance of the bank, aimed at taming inflationary pressures in the economy, reflected in the increase in the Monetary Policy Rate, MPR.


The second factor is the reduced appetite by households for credit and concerns that persistent inflationary pressures could weigh on the country's fragile recovery in the wake of the increases in the MPR.


These factors were however subdued in November by as preparations for the yuletide season hence the 3.4 per cent increase in consumer loans during the months.
According to CBN in its November economic report, "Consumer credit grew by 3.4 per cent to N2.452 trillion at the end of November, up from N2.372 trillion at the end of October.


Resultantly, consumer credit as a share of total claims on the private sector grew by 0.1 percentage point to 8.6 per cent at end-November. Higher consumer credit demand was attributed to preparations for the yuletide season.


A disaggregation of consumer credit revealed that personal loans stood at N1.864 trillion, accounting for 76.0 per cent, while retail loans stood at N588.72 billion, and accounted for 24.0 per cent."