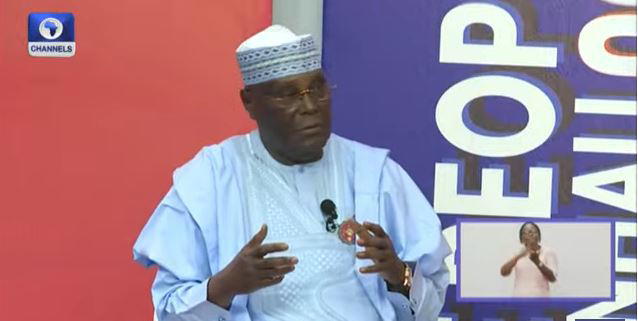 By John Alechenu
The presidential candidate of the Peoples Democratic Party, PDP, Atiku Abubakar, has promised to end banditry and improve security nationwide, especially in Zamfara State, if elected President.
He made the promise while speaking to parry supporters in Gusau, the Zamfara State Capital, yesterday."Atiku extended his sympathy to the people of the state who had been at the receiving end of bandit attacks which has led to hundreds of death over the last couple of years.
The PDP candidate said: "We have been looking forward to come to Zamfara because of what we are reading on social media, now we have seen that it is true.
"First, I want to use this opportunity to condole and sympathise with you. I know that apart from the people of Borno and Yobe there is no state that suffered the loss of people apart from you as a result of banditry, armed bandits among others, we pray that God will bring this to an end, but the end of it all is if God wills it is to vote for PDP, because APC brought this evil in the last seven to eight years of its administration.
"They brought insecurity, poverty, and disunity; our youth are not going to school because teachers are not paid in secondary and tertiary institution. With your vote, you will expunge them.
"I promised to restore peace and security in Nigeria I have done it in the past I, so, see no reason why with your support and backing by the grace of God there wont be peace in Nigeria.
"Secondly the people of Zamfara are known for trading, farming, rearing today none of these exists, therefore with your support we will restore all businesses, ensure that all our youth are schooling without hitches.
"When you elect your governor we will collaborate with him to ensure that all things Zamfara needed is done.""As Federal government we will ensure the construction of railway that brought wealth to Kaura. We will work with the state government to revitalise the closed down textile company.
"We will give businessmen capital to open these textiles for job generation. We will open borders because it is not in line with the law. Our borders are closed while others are open.
"They brought us abject poverty there is no justice in this. I promised under the Federal Government we will reconstruct Bakalori Dam for those farmers that were prevented from farming.
"Two governors in the past made a pledge to me to construct airport but failed to do it the Federal Government will assist the state to build the airport in Zamfara.
Speaking in a similar vein, the vice presidential candidate and governor of Delta State, Ifeanyi Okowa, expressed confidence that the people of Zamfara would vote overwhelmingly for the PDP.
He said: "I thank you for rejecting the APC because they brought insecurity to us. They brought hunger but Atiku is coming to drive away the hunger.
"Atiku is bringing peace back to you. Atiku will support your businesses, Atiku will support those who farm and he will take away hunger.
He will support the education of our children. He will bring Nigeria back to where we expect it back to be.
"We cannot go to bed hungry, Atiku will help the women, Atiku will help the youths and creates jobs for us. His promise is to give us a better life, to give us a better Nigeria and I thank you for supporting him. With Atiku, Nigeria will be great again.
A former campaigner for Asiwaju Ahmed Tinubu, Hajiya Najaatu Mohammed, urged the people of the state to cast their lot with Atiku who she noted has their best interest at heart.