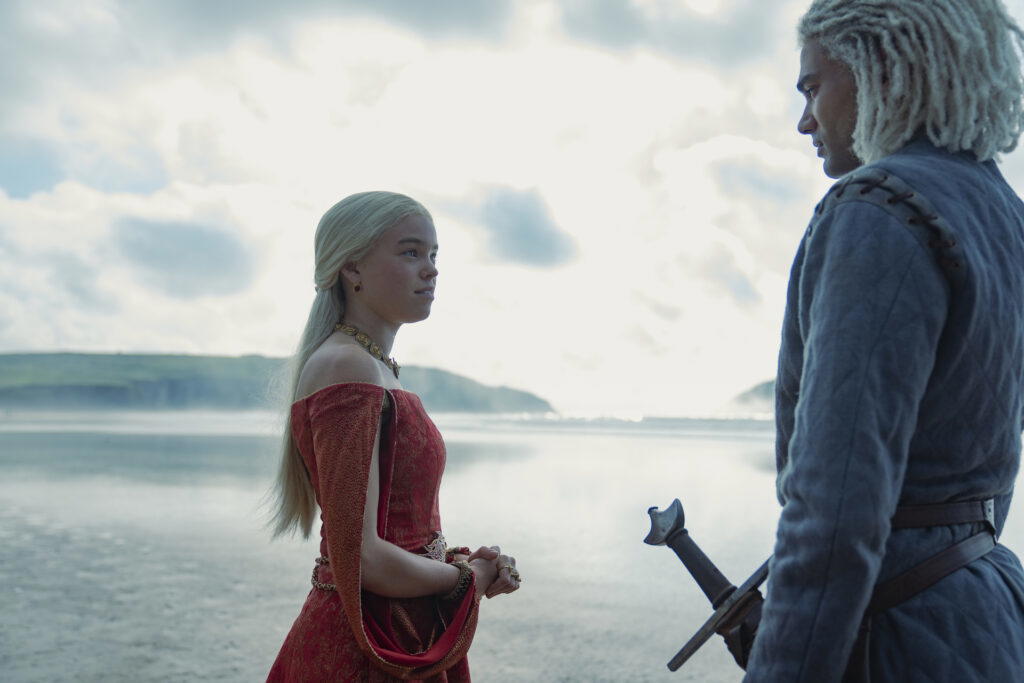 'House of the Dragon' episode 6 marks a major turning point for the series. It has now been 10 years since we last saw everyone. Princess Rhaenyra (now played by Emma D'Arcy) is pregnant.
Her cousin-husband, Laenor Velaryon (John Macmillan), is also older, as is Queen Alicent Hightower (Olivia Cooke).
Another week, another House of the Dragon episode fuelled by fire, pain, and death.
Immediately after giving birth, Rhaenyra is ordered to appear before the Queen.
Death of Laena Velaryon
In episode 6, Laena is midway through labor when it becomes clear something is wrong. "I've reached the limit of my art," the maester tells Daemon. "The child will not come." He then explains, in a horrible echo of the conversation Daemon's brother King Viserys (Paddy Considine) had with Queen Aemma Arryn's (Sian Brooke) maester in episode 1, that he may be able to save either the child or Laena, but not both.
Clearly, Laena overhears some of this conversation. Or if she doesn't exactly determine the details, she instinctively understands the situation and decides to take matters into her own hands. Stumbling outside, she finds her dragon, Vhagar, and utters the "Dracarys" command. Vhagar hesitates, but Laena repeats the word over and over until the dragon eventually surrenders and unleashes its fatal fire.
As we see at the start of the episode, Laena clearly loves nothing more than riding Vhagar. She's restless in the house in Pentos, one of the Free Cities on Essos' western coast, far from Westeros. During a conversation with Daemon, in which she tries to persuade him not to stay settled where they are, Laena foreshadows her own death.
"At my end I want to die a dragon-rider's death," she says. "Not that of some fat country Lord."
Episode 6 of House of the Dragon, titled The Princess and the Queen, is likely to be among the most controversial in the series. Time jumps are risky things, so HBO is playing with fire here. There's a gap of over 10 years between episode 5 and Sunday's show. That means a bunch of new faces: Emma D'Arcy is Rhaenyra Targaryen now, and Queen Alicent is now played by Olivia Cooke.
Both the princess and the queen have a squad of children running about them now, too. Tensions are now much worse between Rhaenyra and the queen. After all, Alicent's green dress in episode 5 did portend war.
Rhaenyra Targaryen was getting married to Ser Laenor Velaryon, last we saw her. In this episode, the first thing we see is Rhaenyra giving birth. It's a boy! Except it's not the Rhaenyra we know. Now 10 years older, the princess is played by Emma D'Arcy instead of Milly Alcock.
The second thing we see, literally as the child is delivered, is a messenger coming in saying the Queen has requested to see the child. What impeccable timing.
Accompanied by Ser Laenor, who's also all grown up now, the two stumble to the queen's chambers. The queen is also a new woman. She's now played by Olivia Cooke instead of Emily Carey.
Notes
I was sorry to see Laena go so soon — as portrayed by Blondell, she radiated intelligence and nerve. At least Laena got to bond with Vhagar, the enormous ancient dragon she seemed fascinated by, as a girl, in her awkward chat with Viserys a few weeks ago.
"The Triarchy" is to this show what "Meereen" was to "Thrones," in that every time someone mentions it, my eyes glaze over. On the bright side, you can't bring up a giant Tyroshi general "who dyes his beard purple and wears woman's frocks" and not show him at some point, right? So that's something to look forward to.
Subscribe for latest Videos