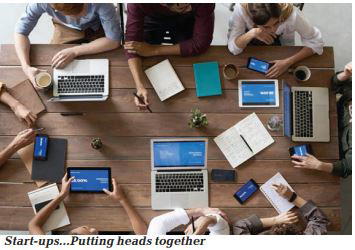 By Juliet Umeh
The telecommunications sector unarguably has become one indispensable economic enabler for the country and its people. However, the sector remains grossly dependent on foreign inputs which at the end of every operating year results in capital flights above $2.16 billion.
Major industry players, particularly the Mobile Network Operators MNOs, depend solely on foreign talents, solutions, equipment and accessories. They also have to deal with the hassles of accessing forex as one of the major problems.
All these have resulted to untold suffering which is not the case for the operators alone but also for the consumers as it in turn aides Naira devaluation.
But, interestingly, some Nigerians start-ups appear to be working vigorously to change the narratives. They churn out global solutions which are seen solving local problems.
Some of them exhibited in the just concluded expo for stimulating indigenous content development, organised by the Nigeria Office For Developing Indigenous Telecom Sector, NODITS in Lagos recently.
For instance, Enextgen Wireless Limited is a Nigerian tech solution provider which debuted in 2017. The company focuses on improving the end user experience in broadband communication in Nigeria.
One of its major products is Emetrics, a platform that measures quality of end users experience, including the quality of their browsing experience. Emetrics uses colours to benchmark its quality analysis thus that green stands for excellent, blue for good, yellow for fair and red for poor. At the end of the analysis, Enextgen will proffer solutions and possible ways of improving the end user's experience.
Sales and Marketing Manager of the company, Mr. Peter Adu, said his company projects Emetrics by visualizing the coverage and measuring the quality of the end users' experience.
"Also, Business Development Director at the company, Mr. Gbadega Adeyeye, said the platform is yet to be widely accepted which is one of the challenges of Nigeria start-ups.
Adeyeye said: "It will be good for the government to patronize the indigenous companies. We can do the same thing the foreign companies are doing and even better than them. We have the expertise, the knowledge and the tools that we built here in Nigeria. We also have the passion to improve the network quality in Nigeria.
"For mobile network operators, they can make use of emetrics service to achieve their optimisation because we know the signal presence in a location and then we can measure the quality of that signal. Our tool can help NCC visualize the coverage quality of end users across the major network operators in different locations and then we help them to set up a benchmark of quality for experience."
*Another start-up is Tronix Labs Limited, a 2021 debutant. It specializes in creating internet of things, IoT solutions specifically suited for Africa.
The company's flagship products include: the AirSyn (Smart gas sensor/router) and Proxie (Smart Sockets/switches and repeaters).
AirSyn is an air quality monitoring device that can inform if the air within the environment it is installed is safe or not. AirSyn is a real-time personal and industrial air quality monitoring device with a fire alarm that can detect up to 16 pollutants.
Spokesperson of the company during the exhibition, Mr Gideon Jonathan said: "The good thing about the AirSyn is that it doesn't just come with the regular conventional alarm system that makes noise but this tells you that the environment is unsafe and so you know exactly what is wrong with the environment.
"It also functions as a universal router. One can browse with it; connect mobile phones and computers among others.
*SID Digital is another start-up in Nigeria already making some waves. It is a division of SecureID, a digital solutions and financial technology company.
The company provides innovative end-to-end digital payments like digital cards, customers' loyalty solution, mobile Point-Of-Sale, mPOS solutions including mobile/Tokenization, loyalty, digital identity and e-fare collection system and services.
Also, check out another start-up, Catalog, a learning content distribution platform which came into existence in 2019 . Catalog creates a platform for publishers to come onboard and upload contents. It gives them access to different individuals who love to read those contents.
Meanwhile Infratel Africa is another start-up which is promoting local content dependency in the country. The company is a telecommunication infrastructure service provider which has steadily grown over the past years from a basic telecommunications infrastructure provider to a key player in the provision of RAN, backhaul and power as a service across Africa.
Infratel provides services to a significant number of MNOs, government and telecommunication companies. The Company leverages its strategic alliances with key technical partners in the industry to deliver value to its clients.
Subscribe for latest Videos