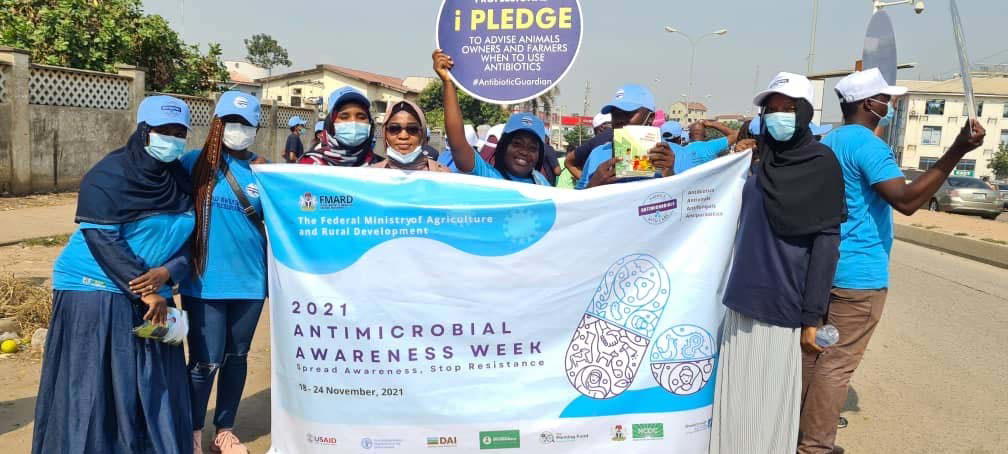 By Gabriel Ewepu
It is interesting to know that farmers' agribusiness evolves with knowledge application along various value chains in the agricultural sector with the right information from relevant and reliable authorities that boosts productivity and profitability based on abiding by the principles that knowledge provided to solve a particular problem and add value to what the farmer does to stand tall in his or business to the benefit of targeted consumers of his or her product.
The current concern and campaign launched by the Epidemiology Division under the Department of Veterinary and Pest Control Services of the Federal Ministry of Agriculture and Rural Development, is on wrong application of Antimicrobials due to several factors responsible for the wrong practice that endangers the health of livestock and Nigerians who consume them.
This has prompted the Epidemiology Division to go all out to holistically sensitise farmers on right application of Antimicrobials on their livestock and to safeguard health of Nigerians consuming their products.
And it would be recalled also that the Minister of Agriculture and Rural Development Dr. Mohammad Mahmoud Abubakar, during the flag-off ceremony of this 2021 World Antimicrobial Awareness Week, WAAW, with the theme 'Spread Awareness, Stop Resistance' held in Abuja, tasked Nigerians to stop inappropriate use of Antimicrobials and promote good practices that will limit the emergence and spread of resistant infections globally.
He noted that Antimicrobial Resistance (AMR) in recent times has been "considered one of the most important threats to public health in all parts of the world as it drastically limits our ability to effectively treat common infections in humans and animals."
According to him, within the agricultural and food resources sectors, a critical factor that promotes Antimicrobial Resistance is the slaughter, sale and consumption of animals treated with Antimicrobials without observance of withdrawal period.
What are Antimicrobials?
Antimicrobials are drugs used for the treatment of infections caused by microorganisms such as bacteria, viruses, fungi, parasites in animals and humans. Antimicrobials include antibiotics, antifungals, antivirals, antiparasitic. Antibiotics are drugs used to treat bacterial infections like Salmonella that causes typhoid fever, antifungals are for fungal infections, and so on.
Antimicrobial resistance (AMR) is considered as one of the most important threats to public health globally.
According to CVO/ Epidemiology Division, Department of Veterinary and Pest Control Services, Federal Ministry of Agriculture and Rural Development, Dr Francis Peter Umanah, it is important farmers know what are the causes Antimicrobial resistance which include; All forms of inappropriate use of antimicrobials promote development of resistance by microorganismsin humans, animals, crops and environment, which can be in form of; Misuse – when it is not needed, such as treating viral infections with antibiotics, use as growth promoters in food animals (livestock, poultry & aquaculture), and others; Overuse of antibiotics; Underuse – underdosing, non-completion of treatment; and Environmental contamination from improper disposal of expired drugs and chemicals
Umanah also made it known that factors determine emergence of resistant pathogens; Poor quality medicinal products containing low amounts of active ingredients in circulation also encourage the emergence of resistant organisms; Ease of access to antibiotics without a prescription; Use of antibiotics as growth promoters and egg boosters by livestock farmers leading to exposure of pathogenic microbes to low grade and sub-threshold levels of antimicrobial residues and development of resistance which can be transmitted to humans and environment.
Others are lack of observance of withdrawal period in food animals. Slaughter of animals and sale of animal products after treatment with drugs without observing withdrawal periods as well as administration of drugs to birds awaiting sale in live bird markets also enhance development of resistance by leaving some antimicrobial residues in animal products such as meat, milk and eggs.
Poor infection prevention and control in health-care facilities, veterinary clinics and inadequate biosecurity on farms; and absence of regulatory legislation and lack of enforcement of legislation when available.
The issue of Antimicrobial Resistance becoming a problem to farmers, which has taken the front burner is not far-fetched, as explained and highlighted by the Epidemiology Division in the Federal Ministry of Agriculture is because of the health hazards it posses, hence threatens the ability to effectively treat common infectious diseases in humans and animals leading to prolonged illness and increase in deaths.
Also Umanah made it clear that it has been projected that by 2050, AMR could account for up to 10 million deaths annually, an increase from about 700,000 deaths today. Of the 10 million deaths, it estimated that 40 per cent or 4 million of the deaths will occur in Africa by 2050
"We are not developing new drugs to cope with increasing resistance to existing ones. Antibiotics Research and Development (R&D) has been insufficient in the last 20 years, due to significant scientific, regulatory, and economic hurdles", he said.
He added that for farmers to understand the consequences of Antimicrobial Resistance (AMR).
Some of the consequences are; Infections become difficult to treat in humans and animals; Increased morbidity and mortality; Loss of livelihoods; Increased cost of production; Threatened food security and food safety; Impact on international trade; and impact on the national economy.
Being a responsible division delivering its statutory mandate, farmers are advised to apply the following to stop Antimicrobial Resistance (AMR);
§ Ensure responsible and prudent use of antimicrobials. This includes implementing practical measures and recommendations aimed at the improvement of animal health and animal welfare, while preventing or reducing the selection, emergence and spread of antimicrobial resistance.
§ Give priority to good animal husbandry, biosecurity, vaccinations and good hygiene practices so as to maintain animal health.
§ As much as possible use alternatives to antibiotics such as probiotics as guided by your Veterinary Doctor.
§ Only use antimicrobials when prescribed by a veterinarian (or other suitably trained person authorized to prescribe veterinary drugs).
§ Not every infection needs to be treated with antimicrobials.
§ Do not use antimicrobials as growth promoters.
§ Follow the exact dosing instructions given by the veterinarian.