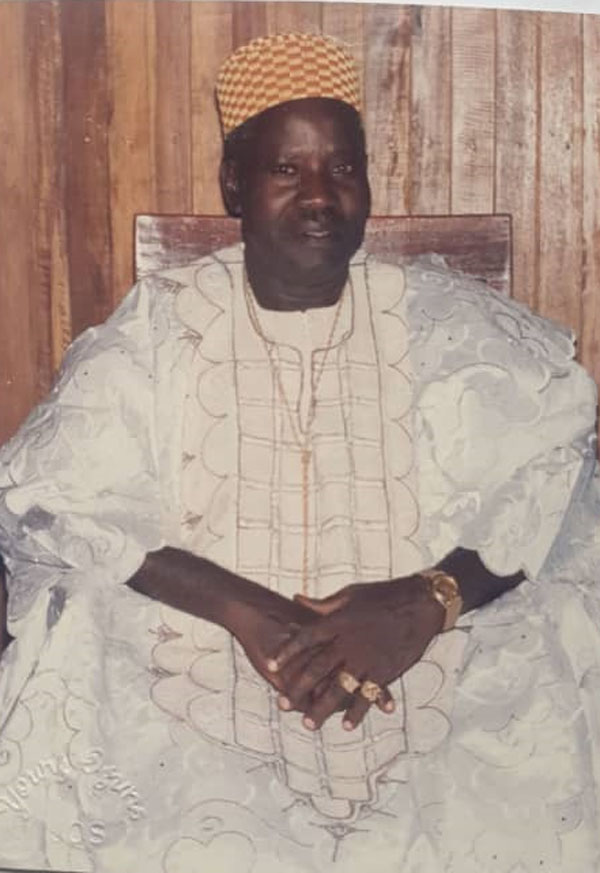 Chief David Jimoh Ajiboye (J.P.) a.k.a DAJBOYE was born in 1927 in Osi-Ekiti to Pa Ajayi Osegbemiro Ajiboyede of Obaaji compound and Madam Salamotu Ajayi Ajiboyede popularly known as "Eyelobi" of Ejemu compound all of blessed memories.
His paternal christian and maternal muslim leanings boldly reflect in his given names that he was very proud of throughout his life.
His early childhood was spent under his mentors: Pa Olofin of Osi-Ekiti and Justice Kayode Esho of Ilesa who both saw him receiving early education up to Standard Six.
In 1952, he moved to Kano in Northern Nigeria to start fending for himself. However, instead of searching for a white collar job, he opted to join the Arab Motors Company in Kano as Automobile Engineering Trainee. He graduated as a Technical Machinist Who Specialized In Automobile Engine Reconditioning ( Crankshafts and Blocks Reboring ).
He was instantly employed as a staff in the company's Kano Branch till 1962 when he got a transfer to Jos Branch. He worked for some more years under the  company and others owned by some individuals before establishing his own in 1969 as DAJBOYE & SONS TECHNICAL WORKS Nigerian Limited. His headquarters are in Jos and branches in Lafia, Zaria, Port Harcourt, and Ado-Ekiti.
Under this technical icon, many young men from different tribes all over Nigeria learned his trade and graduated to become prominent citizens on their own.
He married his first wife Mrs. Rachael Ajoke Ajiboye (a.k.a. Mama Kola) in 1963 and the second wife; Mrs. Mopelola Ajiboye (a.k.a. Mama 'Sanmi) ten years after and they are all blessed with beautiful and progressive children.
As a growing young handsome man, he carved for himself an identity of taming and grooming his beard which made everybody start calling him "the Bearded One". i.e. "MAI GEMU" in Hausa language. A nickname he could never shake off.
Also as a struggling man in his youth, he encountered a lot of difficulties but he was always taking solace in a popular philosophy that says "It is not life that matters but the COURAGE that one puts to it".
The key word here gave him his third nickname "COURAGE" which he inscribed boldly on his first means of mobility in life; a HONDA 90. He later passed it on to his nephew who was living with him when he bought his first car; a Ford Saloon with registration number BP 333.
As fortune started smiling on him in his heydays, he never forgot to move closer to God. In the year 1977, he became a Born Again Christian who dedicated the rest of his life to God and humanity. He made his first holy pilgrimage to Jerusalem in 1981 and made two more in later years.
He also spent his own money to sponsor many Christians on pilgrimage to Jerusalem and Muslims to Mecca. His efforts in the christian fold gave him prominent roles in St Luke's
Anglican Church Cathedral in Jos as a Patron to many societies in the church, and St Paul's Anglican Church in Osi-Ekiti where he was installed with the title of "BABA EGBE IJO" in 1995, the title he diligently held until he bid this world goodbye on October 3rd, 2020.
His philanthropy and love for youth social developments also made him honored with Partonship of many clubs and societies both in Jos and Osi-Ekiti. Among such clubs are Stars Club, Klob 74, Egbe Asake and many others in Osi-Ekiti. He was a very prominent and active member of Egbe Ojo Olisin of Osi-Ekiti in his lifetime.
In his life, he exhibited true Nigerianism by having all his uncountable friends cut across almost all the major tribes of Nigeria.
He may have gone to rest in heaven with the Lord but among us men on Earth here, the name DAJBOYE, COURAGE and MAI GEMU, the philanthropist and man of the people will be remembered for a very long time for his very big and generous heart both in the northern part of Nigeria and his community of Osi-Ekiti.
Baba, rest in Perfect Peace.