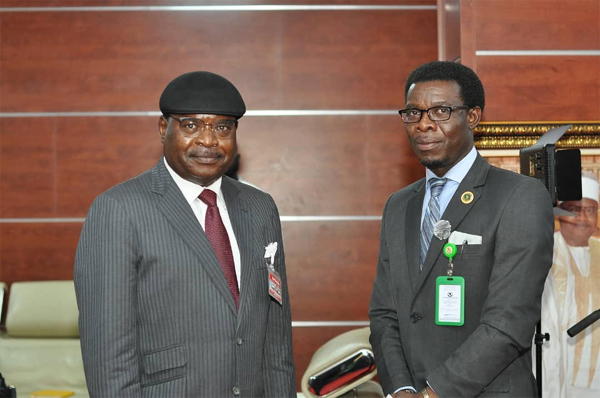 …as Buhari nominates him to represent Nigeria at ICC, Hague
African Union ECOSOCC has endorsed Justice Bello . The endorsement was announced by the Nigeria Representative, African Union ECOSOCC, Dr. Tunji Asaolu when he led his team to visit the Chief Judge in his Chambers on Tuesday in Abuja.
Asaolu, said Bello's nomination by President Muhammadu Buhari to represent Nigeria at ICC was a wonderful decision by Mr. President considering the role Justice Bello has played so far in ensuring fairness in the FCT High Court and securing justice for Nigerians forgotten in Jail.
He said "your hard work and integrity is noteworthy, bringing necessary reform and dynamism into the Court", with over 35 years of experience as a Legal practitioner and currently Chief Judge it highlights basic and exemplary hallmarks of meritorious service. "Indeed, your leadership style and qualities are outstanding and highly recommended for Africa to imbibe in bringing about a prosperous continent and the Africa We Want", Asaolu Said.
Dr. Tunji said African Union ECOSSOC finds Justice Bello equipped to serve as Judge of the International Criminal Court and fully endorse him as a worthy Pan-African that will represent Nigeria and Africa well.
As the Chief Judge of the FCT, Bello paid attention to the de-congestion of prisons in Abuja. He started visiting prisons within his jurisdiction, releasing over forty awaiting trial prisoners in the process.
By the end of October 2017, he was appointed as the Chairman of the Presidential Committee on Prison Reforms and De-congestion, now Presidential Committee on Correctional Service Reforms and De-congestion, by the Minister of Justice and Attorney General of the Federation, Abubakar Malami.
The appointment  as chairman of the committee was made following a National Executive Council resolution on prison reforms.
Justice Bello in his response, appreciated the African Union and President Muhammadu Buhari for finding him worthy to be nominated to serve as a Judge at ICC.
Justice Bello assured AU of a robust partnership that would bring about the defense and protection of human rights in Africa.