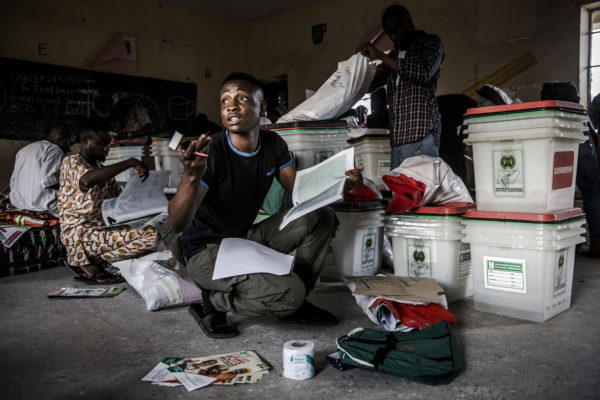 An electoral commission official checks voting material at a polling station set up in the Shagari Day Secondary School in Yola, in Nigeria's Adamawa State, on February 22, 2019, on the eve of general elections after the original poll was postponed last week. – President Muhammadu Buhari vowed on the eve of troubled elections that Nigerians would be able to vote in security, despite a week-long postponement and violence in the north of the country. (Photo by Luis TATO / AFP)
By Charles Kumolu, Deputy Editor
Dateline: May 29, 2007.
Independent National Electoral Commission (INEC)
Venue: Eagle Square, Abuja.An unassuming Umar Yar'dua had just taken his oath of office administered by the Chief Justice of Federation, CJN, Justice Idris Kutigi.
With his trademark calm mien, he mounted the podium to give what remains one of the shortest presidential inaugural speeches in Nigeria's history.
In the fourth, fifth and sixth paragraphs of the 1,324-word speech, the President made some remarks which remain instructive till date.
To the consternation of all, Yar'Adua averred:"
We acknowledge that our elections had some shortcomings.
"Thankfully, we have well-established legal avenues of redress, and I urge anyone aggrieved to pursue them.
"I also believe that our experiences represent an opportunity to learn from our mistakes. Accordingly, I will set up a panel to examine the entire electoral process with a view to ensuring that we raise the quality and standard of our general elections, and thereby deepen our democracy."
Unthinkable
For a Nigerian, President, that was unthinkable. It was also unheard of an African President. But that was the late Yar'Adua, a man of noble mien, setting the stage for what became the Uwais Electoral Reform Panel.
Precisely on August 28, 2007, the President created a 22-member Electoral Reform Committee.
The body was principally charged to "examine the entire electoral process with a view to ensuring that we raise the quality and standard of our general elections and thereby deepen our democracy".
The committee was headed by retired Justice Muhammed Uwais.
198 days after President Yar'Adua mooted the idea, precisely on December 11, 2011, Uwais submitted the panel's recommendation.
83 recommendations
The 297-page document entitled, Report of the Electoral Reform Committee, made 83 recommendations.
They are but not limited to the following key proposals:
Independent candidacy; no carpet-crossing under any circumstances; no elected official whose election is being disputed before the court of law will be allowed to assume office until the disputes on his or her election is dispensed with; biased media reporting to attract fine of N1,000,000.00; additional 108 seats for House of Representatives; retaining Open Secret Ballot; reduction in the number of political parties drastically; abolishment of state Independent Electoral commissions (SIECs); unbundling of INEC – Electoral Offences Commission, Constituency Delimitation Commission; Registration and Regulatory Commission to relieve INEC of some duties; provision for electronic voting; Independent National Electoral Commission,INEC, Chairman and Deputy to be of different gender; INEC positions to be advertised; no office-holder in the party should hold any position in government; and establishment of ceiling on individual donations among others:
The breakdown of the proposed manner of donations is as follows: President, N20 million; Governor, N15 million; Senate, N10 million; House of Reps, N5 million; State Houses, N2.5 million; chairmanship of local government, N3 million; and councillorship, N500, 000.00.
10-year ban
The recommendation of a 10-year ban for electoral offenders is one of the proposals that elicited so much attention.
That the Uwais report represented a watershed in Nigeria's quest for electoral reforms is undisputable.
This perhaps accounts for the partial adoption of some recommendations in the amendments of Electoral Acts that followed.
However, the refusal or failure to adopt it holistically is one of the avoidable reasons taxpayers' funds may be wasted in another similar exercise.
Funnily enough, the Sheik Lemu and Sen Ken Nnamani electoral reform committees were set up in 2011 and 2015 respectively, instead of full implementation of the Uwais report of 2008.
Till date, even the proposals of the successive panels, Lemu and Nnamani, have not seen the light of the day. And the nation continues to grapple with electoral violence and vote-buying among other electoral anomalies.
As you are reading this prologue, reports of previous electoral reforms are regarded more as products of academic exercises.
If that was the fate of three successive recommendations, what are the prospects of the proposed Electoral Offences Commission Bill?
This and other questions are reasons for this special report on the current moves to create an Electoral Offences Commission.
Perhaps, responses are embedded in various exclusive conversations our correspondents had with experts in electoral matters including INEC.
Kogi election
The Senate had, on November 28, introduced a bill seeking to establish the Electoral Offences Commission in the country.
The bill, titled: Electoral Offences Commission (Establishment) Bill, 2019, had passed second reading.
With the charade the recent Kogi election represented and complaints about the Bayelsa poll, none will agree less on the need for such a commission. But there are arguments back and forth regarding its propriety.
That is why this report examines the strengths and weaknesses of Nigeria's electoral process and presents takeaways that could birth credible electoral practices.