By Donu Kogbara
LAST week, I talked about underage voters in the North and complained about innocent youngsters being lured into wrongdoing by adults who should be teaching them how to be honest citizens.
As far as I'm concerned, underage voting is a form of corruption and especially disappointing when it is associated with a candidate like President Muhammadu Buhari who frequently claims to be fighting corruption. I thought I should share the following responses with you.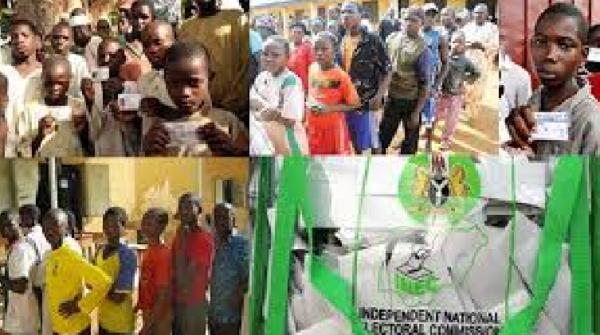 From Patrick Jieto ([email protected]):
It is so bad how politicians have impeded development of the youths in our beloved nation through their undemocratic style of politics.
I witnessed a lot of vote-buying during the just concluded 2019 elections. This act undermines the effort of those who have good intentions for this country.
However, all hope is not lost. As a youth, I fight every day to be a good person and it's not an easy battle to win.  Youths can do more and even better to see that their place in society is regarded, treated with respect and dignity.
First, we have to quit being used by politicians for unscrupulous acts. Get busy with a job or skill to avoid using poverty as an excuse to carry out unscrupulous acts. Yours faithfully, Patrick.
From Chief J.V.E. Puegeren, Asaba Delta State ([email protected]):
Good afternoon Donu. Your latest write-up in Vanguard is a masterpiece. "You cannot give what you do not have" is a popular adage. For good governance in a society, the government must have love for the people and the desire to serve.
What we have today in Nigeria, especially in the South-South is the propensity to ignore the masses with impunity by the governing class. A true government that desires to serve the people with good intentions will not indulge in underage voting, election rigging, ballot box snatching, vote buying, bullying of the electorate, etc.
If there is an effective governance system, people will not clamour for rotation of political positions irrespective of ethnic, religious and regional interests. The clamour for rotational system of governance is a testament and testimony of the failure of the ruling elite. And it leads to occultic manifestations of group interests rather than meeting the communal interests of the masses.
About 99 per cent of the ruling elite do not care about the Nigerian people. If they did, people- friendly policies like reduction of the elites' humungous salaries and wages would have long been implemented, as would other policies linked to industrialisation, youth employment, creation of ICT Hubs, development of specialist healthcare hospitals, etc.
In reality, some states have friendly ruling elite that are passionate in helping the masses. States such as Lagos, Edo, Akwa Ibom, Anambra, Enugu and Ebonyi are well endowed with passionate leadership.
Passionate leadership
The major problems of ineffectual leadership in Nigeria, especially in the Niger Delta, are due to the support, interference and suffocating "servicing of loyalty " to ruling cabals.
The interests of the cabal often replace the interests of the masses, which are in most cases, diametrically opposite.  For the South-South to join the Ivy League of progressive states, we have to truly believe in the progress of the masses and not the propaganda that continues to be churned out by Ministries of Information.
We have to periodically partake in town hall meetings from one senatorial district to another, so we can discover and understand the masses, their wants, needs and challenges and to properly chart a road map towards achieving their target goals.
In this way, all stakeholders are carried along in their development agenda. Effective governance is achieved by establishing a two-way relationship between the ruling elite and the masses. True governance is less of chopping and more of doing. It is the bedrock of true development. True governance is selfless service for posterity.
Today, all I see are selfish and greedy political elites who have no atom of interest in serving their people. Hence, the killings and electoral malpractices at polling stations during election.
Where is the love?
From Ifeka Okonkwo ([email protected]), Anambra State.
Donu, it is very sad and shameful that our president who claims to be a man of integrity, his vice a Pastor and all the members of APC, are rejoicing that they won the presidential election by "moonslide" when they brought shame to our country by using under-aged children as voters, especially in the North, to achieve their so-called victory!
Donu, continue being yourself by discharging your journalistic duties conscientiously by writing about the woes brought on our richly blessed country, by the greed, misrule and mismanagement of our resources by our ruling class, no matter whose ox is gored, period!
I also, last week, told you that I have been accused of serial treachery; and I asked whether it is disloyal or principled of me to quit supporting politician friends if I feel that they are misbehaving.
Victor Ejegi ([email protected]) responded thus:
Dear Donu,
I think I uphold your philosophy of having no permanent friends or enemies but rather permanent interests. Whether they be friends or foes, you hail them once they do right and pick on them when they err.
I have been reading your column in Vanguard for a long time now and following how you relate to serving heads of state, switching allegiance, depending on how you see them perform in the highest office in the land.
Objectivity in assessment
My take is that you have shown objectivity in assessment, not shying away from criticism of an erring leader even if you once approved of him. This was true in the case of Jonathan, and now for Buhari.
I don't want to believe your writing is influenced by any pecuniary benefits you stand to derive as much as by the watchdog instinct true journalism bestows.
To this end I see you as a rare breed in your profession. But for your mentioning it, I thought I was the only one to have noticed the braveness and boldness portrayed in your articles.
In particular, I liked the way you condemned the near moronic acceptance by foreign election observers of the last election results despite being marred by widespread violence and military brutality. It takes courage to speak out the way you did.
Do not be deterred by those who say you have a 'penchant for treachery'. Dogged support for ineptitude is not loyalty but weakness. Keep flying the flag of forthrightness and objectivity in your writings; you have our support.