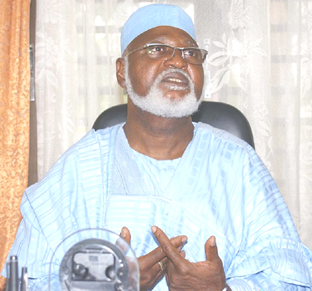 •Gen Abdulsalami Abubakar, retd
By Chinonso Alozie, Owerri
The chairman of National Peace Committee, NPC, Abdulsalam Abubakar, yesterday pleaded with Imo people to conduct themselves in a way that would ensure free and fair election ahead of Saturday's governorship/Houses of Assembly polls.
Also joined in the call for a peaceful election in Imo state, was the Catholic Bishop of Sokoto Diocese, Matthew Hassan Kuka.
The duo delivered their message, through Mr Duke Anoemuah, at a one day National Peace Committee, NPC, high-level dialogue for peace held in the state capital, Owerri.
Anoemuah said among other things that the high-level dialogue with members of political parties, civil society organisations, the clergy and police was to sanitize the people on the benefits of having a peaceful election, adding that NPC, was in Imo state, to achieve that purpose.
Vanguard captured Anoemuah's message that "We are here in Imo state to extend to you the good people of the state an appeal made by the NPC for the peaceful conduct of the gubernatorial and House of Assembly elections scheduled for Saturday, 9 March 2019.
"This forum is one in a series of interventions at state level jointly organized by the NPC and supported by the Department for International Development, DFID.
"The goal of this forum is to sensitize and mobilize stakeholders to the desirable need to have a peaceful election that will guarantee the future of their children."
Briefly, the Catholic Archbishop of Owerri Diocese, Anthony J. V Obinna, said that what Nigeria has been suffering is "severe acute rigging syndrome." pointing out that it was the reason for which development has been stunted in the country.
The Catholic Bishop said he was not happy that, "Democracy in Nigeria is not working, what we are suffering is severe acute rigging syndrome, adding that,
"This democracy will not work if we allow a politician to continue to use the state facilities to do what they want.
"The time has come for security to understand that they should serve the people and not an individual. What it looks like is that the person who plays the piper dictates the tune. They should know that people provide money for their salaries and not an individual."
He went further to say: "For 26 years, I have been in a battle for Nigeria democracy and today it does not see anything near what we expected.
"Is just that the rigging in the election is endemic. We need a mental and spiritual restructuring of our leaders before any other restructuring can be effective."