By Yinka Odumakin
WITHOUT the 71 lawmakers who tabled a motion for Nigeria to return to the parliamentary option last week, our four years of "change" would have passed without any proposal to change anything from all the things that have brought us to where we are today as a country.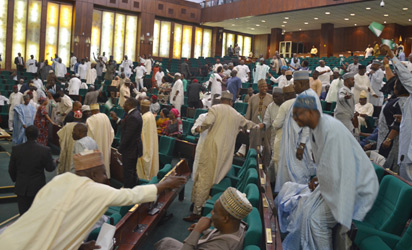 I saw one professor on TV last Friday, struggling with words as he laboured in vain to deny the fact that most of our problems are structural. For him, all our problems were caused during "16 years of PDP" and I wondered how much thought he impacted on his students in his teaching days if he could not think through his line and its cul-de-sac.
The Prof is about to repeat a class he and his principal have failed; and the director-general of their bid is a man who was governor for eight years out of those 16. There were governorship elections in 30 states in 2015 and 20 out of his party's candidates were active members in those 16 years.
When a former governor under the PDP who later became the leader of the party in the Senate was recently about to seek refuge under the broom that sweeps away all allegations, it was the lot of our dear Prof to conduct baptismal classes for him. He went ahead to canonise the gentleman before his own Oga whose own acts in government would make those who ran the "16 years" at the centre look like saints.
Current operators
In those 16 years of the PDP, a few of the current operators who did not carry the cards of the former ruling party were very loud against corruption in the land. They said the ancient regime lied about subsidy and that whoever talks about subsidy is a fraudster. I shook my head as the Prof defended subsidy on fuel with everything in him.
May delays parliament vote on Brexit deal
The junior minister of petroleum, Ibe Kachiwu, shocked the country in April this year when he declared that annual expenditure on fuel subsidy has risen to over N1.4 trillion, an expenditure he  described as "under-recovery" for supply of petroleum products across the country.
The figure he gave meant about N3.76 billion is spent daily on subsidising petrol when the current president voiced that only a fraudulent king would talk about subsidy in Nigeria. It was a staggering 386 per cent higher than the earlier figure of N774 million daily given on March 5, 2018 by the Group Managing Director of the Nigerian National Petroleum Corporation, NNPC, Maikanti Baru, for the importation and distribution of petroleum products in the country.
There has also been a lot of propaganda about fighting corruption in the last three and a half years. The very "successful" war has looked the other way when Kano Governor Abdullahi Ganduje was captured on video allegedly receiving bribes. There was also the case of the man the DSS arrested and accused of allegedly collecting bribes selling party tickets and till date nothing has been heard of it.
As I write this, nothing has also been heard four weeks after the deadline given a panel set up by the president on the case of the NHIS boss who was followed by axe-wielding policemen to break the doors of his locked office. The NHIS board had to act in the place of the president when it could no longer bear a man once recalled by the president from ministerial suspension over corruption.
The sour joke in the country today is that a corrupt person in our country just needs to be close to one of the most powerful  men in the country to have a soft-landing when under heat! How did we find ourselves here? It is not necessarily the 16+ years that ail us. That line of thinking is superficial and pedestrian.
The sad reality is that our problems are largely institutional and structural and this has once again been proved by the way our "change agents" of four years ago have totally disintegrated today.
BREXIT Brings Out The Worst In The British
It takes a certain degree of deceptiveness for anyone to want to cling to what we have on ground now and be fooling the unwary that he wants to fight corruption. One of the greatest causes of corruption in our system today is the presidential system of government that has committed us to spend most of our earnings on overhead.
A system that makes every village in the country the constituency of whoever wants to be president is nothing but the incubator of corruption. We deceive ourselves in the order of our anti-corruption joke that we have a ceiling on election campaign fund for a presidential candidate at N1bn.
When a candidate has to tell cock-and-bull stories from payment for expression of interest form within his party, go through rallies all over the country, put adverts in the media, pay cheerleaders and thugs and buy votes (which is now becoming institutional) in our season of "change", are we talking about N1bn?
There are 119,973 polling units across the county for which a serious presidential candidate must have at least one agent. If a candidate has to give N5,000 allowance to each agent, he has to cough out N6bn. That kind of money does not come from raising cows or any petty business. It comes from corruption. How can any president prosecute anti-corruption war against those who provide such money?
This is why we must thank those 71 Representatives who have tabled a motion asking Nigeria to return to the parliamentary system where your small constituency is all you have to win to become the leader of the country through negotiations in parliament. Those are the guys thinking real change; and the empirical evidence is there. The top 10 least corrupt countries in the world (Canada, Luxembourg, the Netherlands, Singapore, Switzerland, Norway, Sweden, Finland, New Zealand, and Denmark) based on the Corruption Perception Index, CPI, are all run on the unitary parliamentary system.
The Convener of Northern Elders Forum, Prof. Ango, summed it up beautifully when he said: "The parliamentary system should have been better for us because, I believe, in a diverse country like our own, parliamentary system gives you the opportunity that you elect your representatives and the executive branch of government is largely, almost completely made up of elected people because you cannot be a minister in a parliamentary system of government until you are elected from your constituency.
"So you are accountable to your constituency and then your prime minister will nominate you and then you will become accountable to the parliament as well as to the prime minister and so on.
"But what we have today is that if you are in the good book of either a governor or the president, you wake up in the morning and then you are a commissioner, even though you don't know your own village, you don't know the people in your area."
2019: APC will sweep polls in Cross River – Guber candidate
A parliamentary system will allow people with ideas and talent but without access to illicit funds that currently run our politics access to power. The presidential system is turning our politics to one big crime field where drug peddlers, 419ners and other allied crooks are having a field. Our cream must make it to the top once again !
Subscribe for latest Videos