By Victor Ahiuma-Young
THE increasing unfair practices and perceived injustices at work places in may have been worsened by the economic reality in country. Many unions are now being boarded daily with one form of injustice, unfair practice or the other.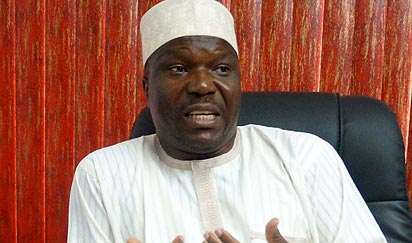 A-Ibom Assembly crisis: PDP should show restraint —Eyiboh
One of such unions is the Association of Senior Civil Servants of Nigeria, ASCSN, which at its National Executive Council, NEC, few days, informed that it has become a beehive of workers seeking for    justice.
Addressing the members of the association and guests at the opening ceremony of the NEC, President of ASCSN, Bobboi Kaigama, noted that since the emergence of current leadership, the current Central Working Committee, CWC, had    been toiling day and night to build the Association to a level where the platform would continue to grow, develop and on top of it all stand firm to protect the welfare interest of its teeming members.
"The leadership has been focused with a very clear sense of direction. We know where we are coming from as a Union and we are equally very clear in our mind where we are heading to. The leadership has refused to be distracted and our eyes are always on the ball. We are therefore hopeful that with the current pace of development, the entire globe will sooner than later come to see us for who we are and salute our operational characteristics.
Healing Centre
"As we speak, the love of workers for the Union is very profound and growing by the day as many employees in the Public Service now want to join and be part of the platform. The name, Association of Senior Civil Servants of Nigeria is now synonymous with a healing Centre where workers troop in to get injustices against them redressed in addition to having their career and welfare interests defended.
The superlative performance of the Union could not have been possible if not for the robust and meticulous manner in which we have been running our affairs. As a trade union and a formidable member of the organized labour, we have changed the narrative by moving from mere theoretical approach to doing things to practical way of defining issues that confront us.
"Moreover, the overwhelming support we receive from our teeming members have been very encouraging. We appreciate these gestures and will never take them for granted. As we forge ahead, I will like to advise against being complacent or getting carried away by our accomplishments.
We should steer clear of retrogressive elements and ideas that have the capacity of destroying what we have laboured for over the years. We should continue to build on our strength and current level of attainment in order to continue to excel as well as remain relevant in the scheme of things as far as industrial relations is concerned in the years ahead."
Dashed expectations 
On the state of the nation, Kaigama, recalled the hope and expectations at independence with the entire African Continent looking up to Nigeria for leadership and sense of direction.
He equally lamented that It was worthy of note that the focus on Nigeria by all was not because of its size but the combination of human and material resources God endowed the country with.
According to him: "Unfortunately, these have not translated into meaningful progress for the country due to a combination of factors including poor leadership, lack of vision and mismanagement of resources. We seem to have lost so many years as we keep on wobbling and fumbling with recent statistics indicating that Nigeria is at the bottom of the table in terms of Human Development index.
"It is apt to note that this negative trajectory of the country has led to high level of unemployment, especially among the youth, leading largely to excruciating poverty and deteriorating standard of living. The end results of this ugly scenario are explosion in violent conflicts, militancy, insurgency, armed robbery and kidnapping, all of which have assumed worrisome dimensions in intensity and magnitude.
"To address this situation, we make bold to say that economic diversification holds the key to the emergence of a robust economy capable of creating jobs and reducing poverty and unemployment. Government at all levels are therefore advised to articulate and implement an economic blueprint for the diversification of the economy by leveraging sectors such as agriculture, manufacturing, hospitality, tourism and ICT to boost productive activities and revenue generation and thereby reduce insecurity."