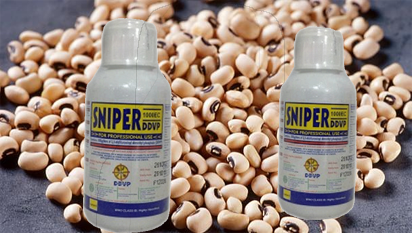 Sniper beans
Otukpo (Benue) –  The Minister of Agriculture and Rural Development, Chief Audu Ogbeh, on Sunday expressed displeasure at the use of chemicals for food preservation and fruit ripening.
Ogbeh said in an interview with journalists in Otukpo, Benue, that the act was detrimental to human health and the environment.
"Sniper is very dangerous; people also use carbide to ripen bananas and some other fruits; people do all kinds of things.
"Suddenly, people are developing different diseases, something is wrong,'' he said, in reaction to the reported use of 2,2-dichlorovinyl dimethyl phosphate, otherwise marketed and known as sniper, to preserve beans by retailers.
He appealed to foodstuff and fruit sellers and others Nigerians to adopt natural means of preservation.
The minister said that the ministry would collaborate with the National Orientation Agency to create more awareness on the need for citizens not to use chemicals for food preservation and fruit ripening.
"We appeal that they use natural means such as pepper to prevent weevils in beans instead of sniper. We hear this and we send people to warn them but the ministry can catch everybody.
"We are going to use the National Orientation Agency and state ministries of agriculture to create awareness on the need for people to desist from these acts.
"We just have to keep educating people," he said.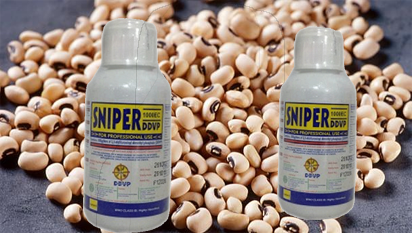 The National Agency for Food Drug Administration and Control (NAFDAC) has also warned citizens against eating and buying foodstuffs and fruits preserved or ripened with chemicals.
NAFDAC also advised that sale of grains or beans suspected to be preserved with chemicals be reported to the agency.
The use of  sniper to preserve beans has gone viral on social media.
Worried by the development, the Consumer Protection Council (CPC) on Friday advised consumers to extensively parboil beans before consumption.
CPC's Director-General, Mr Babatunde Irukera, gave the advice in a statement in Abuja, adding that consumers should make sufficient enquiries before buying beans.
He said that consumers should also sufficiently wash their food items before cooking.
He said: "Thorough washing of food items before consumption or preparation for consumption is a generally accepted method of protecting and promoting safety.
"CPC has recently confirmed by credible information that retailers, mostly in the open market, are using a pesticide to preserve beans.
"The use of 2,2-dichlorovinyl dimethyl phosphate (DDVP compound), otherwise marketed and known as sniper to preserve beans, and more particularly to protect them against weevils, is dangerous," he said.
According to Irukera, sniper is potentially injurious when human beings are unduly exposed to it by inhalation, absorption, direct skin contact or ingestion. (NAN)
https://newlive.vanguardngr.com/2018/11/sniper-to-preserve-beans-against-insects/