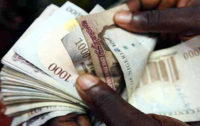 Naira
By Providence Emmanuel
MICROFINANCE bank operators have faulted the new minimum capital requirement recently announced by the Central Bank of Nigeria (CBN) for the subsector.
CBN moves to reduce credit risk in mortgage financing
Meanwhile the National Association of Microfinance Banks (NAMB) has sent a letter to the CBN appealing for a downward review of the new capital requirement.
According to the new capital requirement, the minimum capital base for National MfBs was increased to N5 billion from N2 billion, while that of state MfBs was increased to N2 billion from N100 million. The apex bank also increased the minimum capital for Unit MfBs to N200 million from N20 million.
Nigeria's paint industry to hit $377m growth by 2025 — Expert
Chief Executive Officers of MfBs who spoke to Financial Vanguard faulted the new capital requirement stressing it is unnecessary and a detriment to the nation's financial inclusion quest.
Lamenting, President, NAMB, Mr. Rogers Nwoke, said that the decision of the CBN should not be final else financial inclusion would suffer a setback, saying: "Making the sub sector stronger is not just about capital, the problems of the sub sector go beyond capital. If capital was the only thing that needed to be done, then once you put in money then it would be settled.
"Beyond capital, if five Unit MfB with N20 million merge to get N100 million to become a Unit and a Unit is suppose to have one branch, so who will close his own branch. If you give the bank in my village N200 million, they wouldn't know what to do with it because the population there and the size of loan they will require do not need N200 million to serve them.
"How they arrived at N200 million, they have not told us, but the good thing is that we have made our representation to the CBN in respect to that publication and they have said they will look at it. We are hoping it would not be final because if they do, financial inclusion would take several steps backward.
Also, Managing Director, Fortis Microfinance Bank Plc, Mr. Tiko Okoye, said that the increase in minimum capital requirement will induce mergers and acquisition.
He stated: "I don't know about the increase in capital requirement strengthening the MfB sub sector, if you ask me, I would tell you it is killing the sub sector. There is the need to increase the minimum capital but that increase is astronomical. Everybody knows that there is a very tight liquidity in the system going by CBN's multi policies.
"Before you know it, this would tempt many operators to charge very high interest rates just to widen the bottomline and increase retained earnings, which would not do anybody any good. All in all it is a desirable thing, capital formation rate has been low because if you say Unit Bank N20 million, by the time you pay for rent and buy two or more computers and other things, N20 million is gone and nothing for disbursement and loan inter mediation.
"Of course there was the need to raise capital but the only thing I could see is that this is a way to induce mergers and acquisitions through the back door. Increasing is good, just like we had the commercial banks consolidation. Nigerian entrepreneurs like to own their own things, if they do not do it that way, they would never desire to merge or be acquired. However, lets see how it goes," he said.
On his part, Chairman, National Association of MfBs, Ondo State Chapter, Mr. Ohizemokhai Mascot, commended the CBN, saying, "We must commend the CBN for what they are doing because it is a step in the right direction. The MfB sub sector is still new in Nigeria, so we must commend the CBN, it is a learning curve for everybody."
Also, Managing Director, Okuta MfB, Apostle Blessed Dike, said that the increase in capital requirement would disrupt financial inclusion strategy, saying, "It is going to disrupt the financial inclusion strategy so much. Any bank that is facing difficulties, it would be difficult for another bank to merge with it or acquire it. To set 200 million for unit MfBs is too much, it is terrible, I cannot understand it," he said.
In the same vein, a Chief Executive officer of a state MfB, who spoke on condition of anonymity, stressed that the industry would be hijacked by businessmen and politicians that have the money. He  stated: "The industry would be hijacked by businessmen and politicians that has the money. If they tell me to go and bring N1billion as a state MfB and I have say N100 to N200 million, I will go and ask one politician that has the money to bring N800 million, he will bring chairman and the managing director.