Labour leaders on Saturday repeated their advice to President Muhammadu Buhari not to be misled by some governors on the new minimum wage demand by Nigerian workers.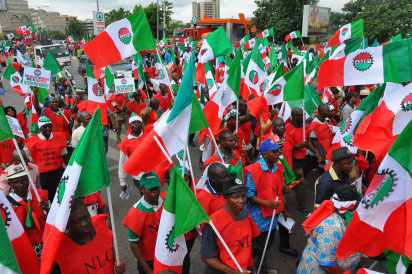 Speaking during a working visit to Ado Ekiti, the President of the Nigeria Labour Congress (NLC), Mr Ayuba Wabba, said there was no going back on the amount submitted to the Federal Government by labour.
Ondo: Senatorial candidate steps down for Mimiko
He described the threat by governors that paying N30, 000 as minimum wage would result to retrenchments as mere distraction by the governors on the issue.
Newsmen report that labour and the governors have been at odds, following the persistent demand by the former that public sector workers in Nigeria should be paid a "decent wage''.
Analysts have criticized the Nigerian government over the low pay of civil servants in the top oil exporting nation, where politicians earn some of the biggest wages in the world.
Wabba noted that labour was determined more than ever before to ensure that workers received decent pay, urging unions nationwide to remain resolute in their wage increase demands.
Strike: Zamfara bank customers in panic withdrawals
The labour chief, who was in Ado Ekiti to attend the 75th birthday celebration of a former Chairman of the
Ekiti State Chapter of the Medical and Health Union of Nigeria, Mr Johnson Ogunseeyin, described the governors' position as reckless and heartless.
"I consider the governors' position as a trick that is not new to us. There is no agitation by labour that never experienced such. So, we consider their position as an afterthought.
"In case they didn't know, labour started with a proposal of N66, 000. So N30, 000 was a midway approach to resolve the crisis.
"We didn't just request for it, we considered the high inflation rate, the poor purchasing power of naira among other variables.
"While we commend about six governors for saying they will pay N30, 000 minimum wage, we challenge those saying they can't pay to go to their states and tell workers and pensioners that they can't pay.
"This agitation started in November last year, even when the review was supposed to take place in 2016.  The governors were asked to send memoranda and only 21 states complied.
Public hemp-smoking : 2 men face trial in Ogun
"We want to tell the governors that we won't succumb to their antics. We will receive nothing less than N30, 000 minimum wage for our people and we have directed workers to vote out any governor or his successor, who says he is not ready to pay,'' said the labour leader.
Earlier, Wabba described Ogunseeyin as one of the few patriots and unionists, who fought for improved welfare of Nigerian workers.
In a speech, the Ekiti State Head of Service, Dr Gbenga Faseluka, appealed to workers to make productivity their watchwords, to boost nation growth.
Many labour leaders, including the Chairman of the NLC in Ekiti, Mr Ade Adesanmi, attended the event.
NAN