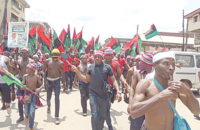 Some members of the Indigenous People of Biafra, IPOB, making brisk appearance along some streets in Onitsha, Anambra State,. FILE
By Chidi Nkwopara, OWERRI.
The Federal Government has been advised to adopt a more humane and practical approach to the growing agitation for a free Biafra, instead of using force.
The Founder and General Overseer of Friends of Jesus Global Mission, Owerri, Bishop Maglorious Enyioha, made the appeal weekend, while addressing a press conference in Owerri.
"The Python Dance, initiated and executed by the Nigerian Army, has become history. People died in the process but the agitation has remained. This calls for a more humane and practical approach than the use of force", Bishop Enyioha said.
2019: Buhari'll get over 50 percent votes in Delta, BSO boast
While saying that "the leader of Indigenous People of Biafra, IPOB, Mazi Nnamdi Kanu, is a young man that can hardly control his temper", the Bishop also opined that "although Kanu may have spoken in some areas like a youth, government should however look critically into what he is saying".
He expressed regret that Nigeria has never known peace since it's creation, stressing that innocent blood is shed endlessly for, even flimsy excuses.
"We cannot allow this to continue ad infinitum. If we don't want shedding of blood to continue, we should sit down and talk. Any land where innocent blood is carelessly shed, is cursed.
Buhari summons service chiefs over Metele attack – army
"Those who provide weapons to Nigeria are only asking us to kill our fellow Nigerians. They should instead, help us to conduct a referendum in Nigeria, instead of continuously supplying us arms and ammunition's", Enyioha said.
Answering a question, the Bishop said that Boko Haram is not a curse, pointing out that they are agitators and in a way, asking for referendum.
"Boko Haram is not a curse. Although their modus operandi is deadly, they are not a curse. They are also calling for referendum. It is no use fighting Boko Haram and herdsmen. We must stop deceiving ourselves and face realities", Bishop Enyioha said.
Answering a question, the cleric said he does not subscribe to hate speeches, but "only talking about our reality and how Nigeria will achieve peace".