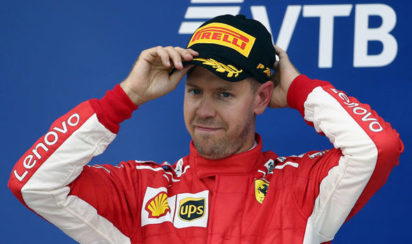 Sebastian Vettel
Sebastian Vettel on Saturday acknowledged the "mutual respect" in his world championship fight with Lewis Hamilton ahead of this weekend's potential title showdown.
The four-time champion German said his relationship with the defending champion had always been respectful, despite their lifestyle differences.
"I think the respect between us has always been there despite the fact that maybe we are very different.
"We appreciate the job that the other guy is doing. I think it's a mutual respect that we have for each other. I think very respectful."
Ferrari driver Vettel needs to prevent Hamilton out-scoring him by eight points in Sunday's United States Grand Prix if he is to keep his title challenge alive.
But he will start the race with a three-place grid penalty following a controversial stewards' ruling for speeding under red flags in opening practice.
The stewards' decision, made in wet conditions, had reduced Vettel's slim title chances according to Ferrari team boss Maurizio Arrivabene and means that he cannot start on the front row of the grid for a race in which he knows another Mercedes one-two will give Hamilton his fifth drivers' title.
Vettel was penalised for failing to slow down sufficiently after Charles Leclerc's Sauber had left gravel on the track after a spin.
Rival drivers felt the three-place punishment was too strong.
"It's quite a harsh penalty," said Pierre Gasly of Toro Rosso. "If you've been really careful… It's a shame, especially looking at the situation, still fighting for the championship. And now he gets a penalty, it's not so exciting."
Gasly's team-mate Brendon Hartley agreed and pointed out that it is more dangerous to brake hard in treacherous slippery conditions.
"I think in the wet, when a red flag comes out, it's potentially dangerous to slam on the brakes," he said.
"If Sebastian backed off straight away, as you would in a red flag, I think the penalty is extremely harsh."
Romain Grosjean of Haas also sympathised.
"You only have a couple of milliseconds to slow down and sometimes you get it in the right place, sometimes you don't…It's so tricky," he said.