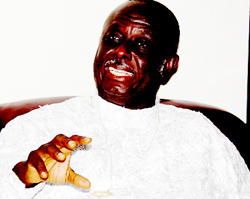 Chief Emmanuel Ogidi
The National Vice Chairman, Peoples Democratic Party (PDP) South South, Mr Emmanuel Ogidi has said that restructuring was the only way to addressing all economic problems facing Nigeria including the challenge of an acceptable minimum wage.
Reacting to the outcome of the ongoing  negotiations between the government and Labour Unions, Ogidi said it would be difficult to have all states pay uniform salaries with the current structure.
The Minister of Labour and Employment, Mr Chris Ngige had on Wednesday said that the Federal Government after consulting with the 36 states governors had proposed N24,000 while the Governors proposed N20,000 as minimum wage for civil servants.
Ngige said that the Labour Unions discussing the demand for new minimum wage had proposed to increase it from the current N19,200 to N30,000 while the organised private sector came down to N25,000.
According to Ogidi, Nigetria is supposed to be run as a Federation and not as a Unitary System of Government: "this has always been the issue as all states are not equally buoyant.
He said that restructuring either on regional or state by state basis would ensure a fair and balanced minimum wage across the country.
"Definitely, all the states are not equally buoyant and it will not be right to ask such states to pay the new minimum wage.
"Up until now, some states have not been able to pay the N18,000 and some states are also being forced to take some workers they do not need because they are afraid of Labour Unions.
"By the time we restructure, all these issues will be dealt with and when the PDP comes, Labour will be taken care of.
"Restructuring is all encompassing, it will address issues across all sectors, it will ensure effective checks and balances between the three arms of government.
"We shall no longer have situation where the executive would just shut down the legislature or indiscriminately arrest officials of the judiciary," he said.
Sympathising with the situation of workers, Ogidi said that a new minimum wage would also mean increase in house rents, transportation, tax, market prices among others.
On institutional restructuring, Ogidi said that institutions in the country at the moment were very weak, and that the PDP was proposing strong institutions and not strong persons.
The chairman explained that a nation with strong institutions, the people and everything other thing orderly falls online.
According to him, for us to have good governance, we must build strong institutions and allow them to function in accordance to the rule of law.
Ogidi said that in 1984, there was the War Against Indiscipline policy of government which made people maintain orderliness everywhere.
The PDP stalwart said when people are certain and have confidence in the system, they would naturally follow the right channel.
Ogidi said that in the just concluded PDP elective convention demonstrated that Nigeria can be orderly and institutions can work if allowed to function.
https://newlive.vanguardngr.com/2018/10/you-will-lose-together-buhari-tells-obasanjo-atiku/
He said that the PDP had been rebranded and there was need to show Nigerians that strong institutions were capable of achieving a free and fire election.
"Nigeria is a great country, Nigeria can work again, and we shall make it work; we are grateful to Nigerians for having confidence in us again and on behalf of the party, I assure Nigerians that we are not going to disappoint them," he added.