The bears continued to dominate trading on the nation's bourse on Wednesday with the market capitalisation extending loss by N12 billion amid political uncertainties.
Newsmen report that the market capitalisation shed N12 billion or 0.10 per cent to close at N11.822 trillion in contrast with N11.834 trillion achieved on Tuesday.
Similarly, the All-Share Index, which opened at 32,417.70, lost 35.12 points or 0.11 per cent to close at 32,382.58.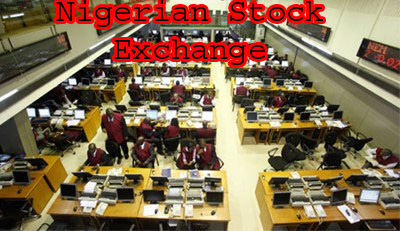 Market analysts hinged the persistent fall in the equities market to fears surrounding the 2019 general elections.
You lost your shirt get ready to lose your trousers
They said that investors were still watching to ascertain what would be the outcome of the just concluded political primaries of the major political parties.
They said that if the primaries did not generate serious upheaval that the stock market would likely stabilise for sometime.
Nigerian Breweries topped the laggards' chart with N2.50 to close at N85.50 per share.
Transcorp Hotel trailed with a loss of 65k to close at N6.10, while UACN declined by 50k to close at N11 per share.
FBN Holdings lost 25k to close at N9.20, while Mobil Oil went down by 20k to close at N175 per share.
On the other hand, Nestle led the price gainers' table, increasing by N15.30 to close at N1,420.30 per share.
CAP followed with a gain of N3 to close at N33, while Unilever gained 50k to close at N42.50 per share.
Flour Mills also garnered 50k to close at N20.40, while Red Star Express advanced by 30k to close at N4.60 per share.
The financial services sector maintained its leadership position as the most active.
Need for single six-year term for President, governors (2)
Specifically, FCMB Group emerged the most traded equity with a turnover of 18.23 million shares worth N31.07 million.
Fidelity Bank came second with an account of 17.22 million shares valued at N32.16 million, while FBN Holdings traded 15.83 million shares worth N145.68 million.
Chams sold 12.41 million shares valued at N3.23 million, while Guaranty Trust Bank exchanged 12.06 million shares worth N444.65 million.
In all, the volume of shares transacted closed lower with an exchange of 134.57 million shares valued at N1.94 billion achieved in 2,760 deals.
This was against a total of 349.53 million shares worth N1.46 billion traded in 2,832 deals on Tuesday.
NAN