The Chief Missioner, Nasrul-Lahil-l-Fath Society (NASFAT), Imam Onike Abdul-Azeez, has called on Nigerians to intensify efforts toward sustainable development and peaceful coexistence.
Abdul-Azeez told  Newsmen on Sunday in Lagos that peace and religious coexistence was a vital element to the nation development.
"We cannot shout Euraka yet, we still have a lot of things to be done; but so far, in spite of our challenges, we have been able to stay together as a nation.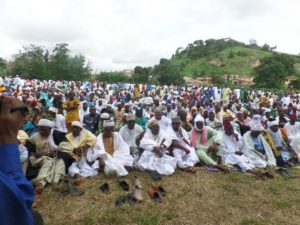 "We must continue to pray to Almighty God to keep us united, though, we may not have done well.
"God loves this country try so much, and that is why we have been weathering all the storms; we will continue to make efforts to make Nigeria better," he said.
The cleric urged Nigerians to support President Muhammadu Buhari-led administration's policies toward achieving the nation's economic goals.
"Nigerians should continue to support the government; it takes the leaders and the followers concerted efforts to move the nation forward.
https://www.vanguardngr.com/2018/10/nigeriall-support-ecowas-on-labour-employment-ngige/
"Government alone cannot do it. We all have roles to play to have a successful transition.
"All hands must be on deck to make sure that the current Federal Government's policies survive and succeed and ultimately ensure that Nigerians benefit from democracy,'' Abdul-Azeez said.