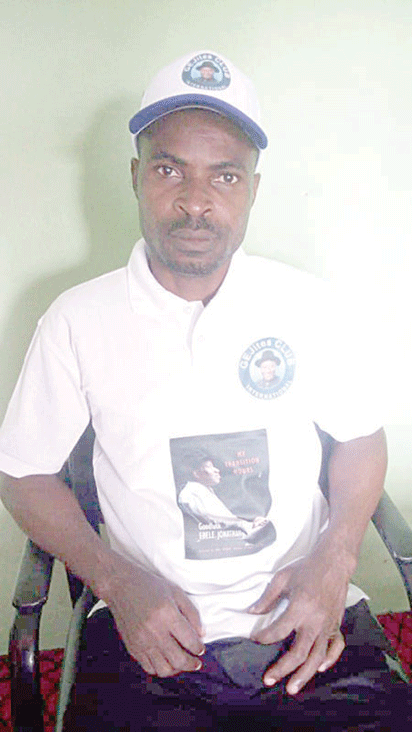 Mr. Blessing Adima is the Chairman, Board of Trustees of GEJites Club International. In this interview, he speaks on the mission of the club, the personality of former President Goodluck Jonathan and the chances of PDP in the 2019 general election.
Excerpts
What is GEJites Club International all about and what was its mission and vision?
GEJites Club international was formed in 2015 after the general election. It was not a pre-election movement. It was after our patron left office and we didn't like the way Nigerians tried to undermine his achievements, we watched the government that took over from him, instead of concentrating on governance, they decided to venture into propaganda.
Government is not about narration, government is about creativity and innovations, so we took time to study and found that he was one of the most abused presidents in the history of Nigeria at that time. So people decided to come together and the name GEJites Club International came into being.
Shittu drags APC to court over disqualification, NYSC certificate
GEJites Cub International is aimed at producing patriotic and dynamic leadership for Africans by establishing a viable structure through mentorship, fellowship, training education programme and humanitarian services that will sustain the flow of competent and patriotic citizenship for public administration not only in Nigeria but in Africa. It is not just about leadership, those who will go into governance, patriotic citizenship because where there is no patriotic citizenship, there will be no patriotic leadership. So that is what GEJites Cub International represents and that is what we stand for.
What steps are you taking to mentor the upcoming generation to carry out the objective of the nation?
We are working from the secondary school level. You don't grow a plant from maturity as a farmer. You grow plant from the nursery level. We take concern from children in the secondary schools; we go there to educate them about being good citizens, that without being good citizens, you can't be good leaders. We go to campuses of higher institutions, colleges of education, polytechnics and universities campuses. We have a large vision. Look at today, Nigeria has been so divided; there is so much strife more than peaceful coexistence in our nation. We have the vision of building the Goodluck Jonathan Institute of Peace in Nigeria which will serve as a university of peace, harmony and understanding and progressive national drive, not only in Nigeria but Africa.
2019: Senate approves N189bn budget for INEC
What do you make of Atiku Abubakar emerging as the presidential candidate of the PDP in the 2019 general election?
This is one of the best presidential primaries the PDP has ever conducted, it was keenly contested by 12 aspirants and there is no one among the 12 that contested for the primary that is not credible, so, for the people to say Akitu is our choice then you know  Atiku has all it takes to win the election.
In 1999,  Atiku Abubakar won the governorship primary of Adamawa State of PDP but Obasanjo saw that Atiku wais worthy to be a vice president with whom he could steer the ship of the country and by the time the two of them came on board, you saw the kind of reforms they drove.
Atiku was in charge of that reform because he was in charge of the economics council of the Obasanjo administration. You see the telecommunication reform, the EFCC, it was Atiku's brainchild. Although they had their own shortcomings, so many reforms took place during the  Obasanjo administration which Atiku was part of.
Atiku has his own vision, so if you ask me, my party has just given Nigeria a man who understands the country, both in administration and economic sense and I think he can rescue the country from the depth of decadence that it has fallen into today within a short period of time.
With the emergence of Atiku, do you see PDP being able to dislodge the APC in the 2019 general election?
Exactly. I can assure you that Atiku Abubakar is waiting to be sworn in because Nigerians are yearning for the one that will rescue them. Again Atiku's popularity is counting for him while the failure of this government is counting against APC. PDP made the right choice in nominating Atiku. PDP is the largest party with the strongest structure, coupled with the fact that the man who transformed Nigeria within five years, Dr. Goodluck Jonathan endorsed him. Atiku is waiting to be sworn in and PDP has a chance of winning.
What would you say about the personality of the patron of the GEJites Club International, former President Goodluck Jonathan?
Goodluck Jonathan is one man that humbled my arrogance. When he assumed office, I used to be his critic until he came up with that December 31 subsidy removal through which I got to know that the man meant well for Nigerians because only 120 Nigerians cannot hold the country to ransom. The money that was going for subsidy was enough to execute critical infrastructure and boost economic development. Nigeria overtook South Africa and became the largest economy in Africa; Nigeria became among the five fastest growing economies in the world.
In the area of infrastructure, it was the Goodluck Jonathan administration that revived the comatose railway system to the extent that  railway became a means of transportation used to carry petroleum products and cement from the West to the North. Nigeria became a self-sufficient producer of cement and exporter of cement.
Nigeria's job creation programme was second to none. In 2012 when everybody thought Nigeria was going to collapse, instead of spending huge amount of government money to import food, the Goodluck Jonathan's agricultural revolution was able to cushion the effect of flooding  which would have caused food scarcity and hunger.
He demystified the fertilizer cabal and the peasant farmers had access to fertilizer. The agricultural revolution helped to cut food importation by 50 percent. Goodluck Jonathan built 12 federal universities to ensure that every state of the federation has a federal university. It is not the duty of the federal government to build health centres, but the Jonathan administration took it upon itself to build health centres across the federation.
Talk about airport remodeling, our transport system was revamped, there was road construction and rehabilitation of about 35, 000 kilometers under the Goodluck Jonathan administration. For the first time, 10, 000 housing units were built in each geo-political zones. In all of these, Goodluck Jonathan did not put tribal, regional and religious sentiments first. When he built almajiri schools, people said it was because he wanted votes from the north and I said that was not the truth. Goodluck Jonathan is detrabilized, he is mentally strong in character. He is not nepotistic, he is concerned about Nigeria.
The man has set a standard for democracy and leadership not only in Nigeria but in Africa as a whole. You can see that before the declaration of 2015 presidential election result, he called the winner of that election who is now President Muhammadu Buhari and congratulated him even before INEC would declare the result. He changed the narrative of the perception of African leaders, sit-tight leaders who don't want to leave power.
Again, what informed it is that the man is from the Niger Delta region and many thought  if he lost the election, Nigeria will split, considering the prediction of prophets of doom but the man demystified all of that and defiled that prophecy to keep Nigeria together. It shows that he is a true nationalist. After he did that, other presidents have copied from him.
His kind of leadership is second to none; he introduced leadership from another dimension. He is not just politically oriented, he is nationalistic oriented. His cabinet was made up majorly of technocrats and not politicians and that resulted into what he achieved in government.