•Uproar in Efut kingdom, as chiefs, residents call for cleansing
•HRM Hogan reacts, says opponents won't frighten me/FoEN
By Ike Uchechukwu
EFUT- THERE was pandemonium at Efut Kingdom, Calabar South Local Government Area, Cross River State, when three freshly dug graves were bizarrely discovered that the palace of the newly installed Muri Munene of Efut and Paramount Ruler of Calabar South, HRM (Prof) Itam Hogan.
C'River govt, workers lock horns over deduction for biofuel cookers, solar lamps
The new monarch took over the monarchy recently after a protracted succession crisis that rocked the kingdom for a decade without a traditional ruler.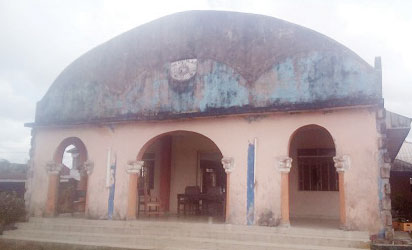 Obaseki mourns death of Ex-CJN, Kutigi
NDV learned that villagers, who went to clear the palace, sealed off a decade ago, because of the imbroglio discovered the mysterious graves considered to be desecration of the traditional stool.
The villagers were not happy with the pollution and have called for cleansing to enable the new king take over the palace and effectively commence running of the kingdom.
Meanwhile, investigation was on to discover perpetrators of the abominable act.
Monarch confirms sacrilege, says I won't be unnerved
HRM Hogan, who confirmed the sacrilege, said:  "After I was officially recognized because I had already been recognized by my people and God, I had to send my subjects to clear the palace, which was sealed off many years ago due to the crisis. In the process, my people discovered three fresh human graves."
"I do not know the aim of the people who buried those persons in that palace and I do not know what they hoped to achieve, but be that as it may, I am not afraid, they cannot scare me with things like that. I am a man of faith and I believe in the Almighty God who has been by shield and He brought us this far, He would surely finish the job.
"Whoever they buried in that place will not deter me from doing what I am supposed to do for my people, which are to bring growth and development. Calabar –South has suffered a lot of backwardness, retrogression and all that have come to an end," the monarch declared.
…warns clan heads, chiefs, village heads on land deals
His words: "It is a new era and I have warned all the clan heads, chiefs, community leaders and village heads to desist from double-dealing on land because this is the major reason why there has always been crisis.  Anyone found wanting or caught in this act will face the full weight of our laws."
He asserted: "We are not a bunch of illiterates, we are all civilized, I am a Professor in Medicine and many of my clan heads, village heads and chiefs are highly intellectual people in the society and well respected .It is a new era and Calabar south must progress."
Security, our major challenge
According to the paramount ruler: "The major challenge we have is security which most times emanates from youth restiveness and which is directly due to unemployment,  but all that will end as we have set plans in motion to gainfully engage youths in the local government to become useful to themselves and the society."
 God'll change our story — Community leader
A chief, who spoke with NDV, said it was a prolonged battle for who becomes the paramount ruler and God answered their prayers, as government of Cross River state finally recognized their own, adding that no amount of intimidation or harassment as well as desecration or pollution of the palace would make them not to sit as a council once again.
"I cannot remember the last time I came to this palace but I crave to have that experience where I will sit with my brothers, sisters, mothers and fathers, including my sons and daughters to deliberate on how to move Efut Kingdom forward. We have been in the dark for too long.
"Everything negative and evil used to be associated with Calabar –South local government, but with HRM Hogan as our Muri Munene,   we shall rewrite that narrative, our story will surely change, all those who did that in that palace will definitely face the music because our tradition is very clear," he stated.
They'll not succeed
Another Chief, who also pleaded anonymity, said whatever they like, let them bury in the place, the truth remains that Prof Itam has been recognized by Cross River state government and the people and by God.
"No sinister motive will last or succeed; we are above them both in life and beyond and all rites and cleansing will be properly carried out in the palace to make it use-able, but we want to let the world know that Calabar South is open for development.  We are open for business and we are ready to receive both investors, visitors and many more people," he added.