As 2019 general election draw closer, Delta State Governor's Aide on Media Mr Ossai Ovie Success has expressed confidence that Re-electing Gov Okowa for a second term is electing happiness and a more prosperous Delta State.
Ossai who disclosed this in Asaba while interacting with Youths, noted that the Governor Sen Ifeanyi Okowa has achieved much since assumption of office and has brought transformations to Delta State.
"2019 Governorship Election will be based on antecedents and the only Man who has been tested and trusted is Gov Ifeanyi Okowa.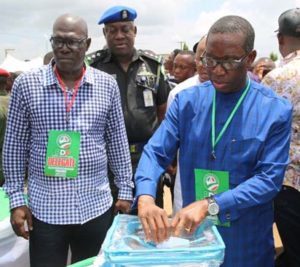 "The kind of developmental stride recorded by Gov Okowa within 3 years in office is amazing and are unprecedented.
He has not deviated from his  five point agenda encapsulated in the acronym SMART which means; Strategic Wealth creation projects and provision of jobs for all Deltans; Meaningful peace building platforms aimed at political and social harmony; Agricultural reforms and accelerated industrialization; Relevant Health and Education policies; Transformed environment through urban renewal".
The truth is in the past three years as Governor, he has silent the mouth of the opposition parties in the state.
Governor Okowa came into office in a time of recession yet he brought transformations to every local government in Delta State.