By Japhet Alakam
THE literary community, budding writers and fans of internationally-acclaimed and award-winning Nigerian writer, Chimamanda Ngozi Adichie who has been silent following the temporary resting of the Farafina Trust Creative Writing workshop heaved a sigh of relief when the creative director, Chimamanda Adichie announced the return of the annual creative writing workshop. The workshop which suffered a set back and could not hold last year because the sponsors pulled out, will now hold as a new sponsor, Trace Nigeria, has taken over.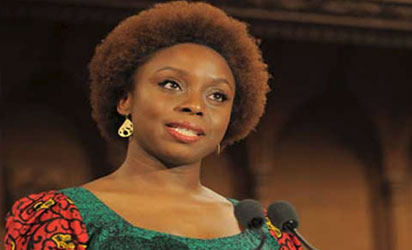 This was announced by Chimamanda during an interactive session with the press in Lagos.
The workshop which is currently in its 11th year, will now hold from November 20 to 30, 2018. According to her, "the workshop will continue to provide me the opportunity to contribute to the growth of the writing community in Nigeria. It will also serve as a platform for writers to learn from one another and from established writers."
On his part, Sam Onyemelukwe, Managing Director of Venator Partners/Trace Nigeria, said: "We are very pleased to partner with Chimamanda Ngozi Adichie. She is an inspiration to youths in Africa and around the world; and through her art, she not only entertains, but challenges stereotypes and kindles conversations that would often otherwise not be had. This corresponds with the Trace mission to engage and inspire urban and Afro-Caribbean youths through news, entertainment, arts, lifestyle and culture."
Speaking about the workshop, she said that the workshop, which was formerly known as the Farafina Trust Creative Writing workshop is now to be called the Purple Hibiscus Trust Writing workshop. Pointing out that the workshop has really lived up to its bidding, "it has gone really well, it has grown, people have benefited from it. People are being made to understand that every society needs strong story tellers. I feel very proud of them and what they have done through it".
Adichie has been organising the workshop for the past 10 years under different sponsorships. The workshop has graduated over 200 participants, many of whom have become published writers and editors.
She teaches the workshop alongside other established writers who are invited. Past co-teachers include Poet laureate of Scotland, Jackie Kay, British-Malaysian writer, Tash Aw, and American novelist, Dave Eggers.
She also called for applications from elligible canditates for the workshop which opened on  September 24 and will run till October 15. Such applications with few sentences about the person should be sent to [email protected] Reacting to a question on feminism, Ms. Adichie called for equality among men and women.  "Women and men should be given equal opportunity. No one should stop anyone no matter the sex from being what he/she wants to be. Talents and intelligence cut across gender, so women should be allowed to occupy positions of authority." Adding that, "we should not use religion or biological differences to hold women down."
On her style of writing, she said: "I don't think I am a poet. I started with tiny books, but it did not go well. The first books were like trying to find myself and I finally found myself in fiction."
On when next to expect a new book from her, she laughed and said: "I don't know exactly, but what I can say is watch out."
Some of the alums of the workshop, Sheilla Chukwunozie and Mazi Nwonwu also shared their experiences about the workshop, how it really impacted them and changed their lives.