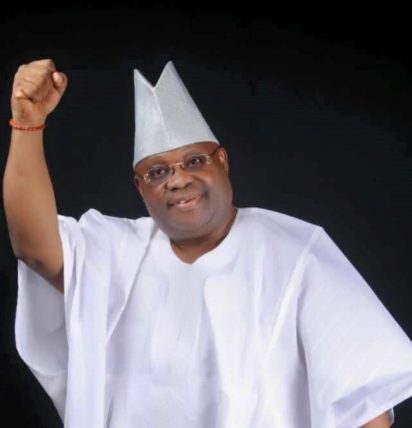 By Gbenga Olarinoye
THE Peoples Democratic Party, PDP, runners up in the party's governorship primary, Dr Akin Ogunbiyi, has declared that he was still in the race, adding that he has not stepped down for the candidate of the party, Senator Ademola Adeleke.
A statement by the campaign organization of Dr Ogunbiyi reads: "The attention of Dr Akin Ogunbiyi has been drawn to a misinformation going round that Dr Akin Ogunbiyi has signed an agreement and withdrawn for Senator Ademola Adeleke.
"We wish to put the records straight. Shortly after the gubernatorial primary election the National Working Committee of our great party met and decided on appropriate compensation to assuage Dr Ogunbiyi and his teeming supporters for the general elections. "At another NWC meeting of 29th July, 2018 led by the Party National Chairman, Prince Uche Secondus with the following in attendance:   Dr Ogunbiyi, Senator Adeleke, Osun BoT members led by Alhaji Shuaib Oyedokun, Dr Olu Alabi and Erelu- Obada, all the co-aspirants that stepped down for him; the National Chairman presented the terms of settlement to Senator Adeleke.
"He remarked that given the circumstances of the primary election, the offer in the wisdom of the leadership was "fair and equitable" in resolving the on-going crisis. The key decision points were that the Deputy Governor slot will be ceded to Dr Akin Ogunbiyi group and West Senatorial ticket be automatically conceded to Dr Akin Ogunbiyi himself.
"Our Distinguished Senator concurred to the agreement with a promise to get Hon. Adeogun to resign and requested for three names out of which his group will make a choice in replacement.
"A list of three candidates was submitted. 48 hours after, in spite of his commitment, Hon Adeogun didn't relinquish the position indicating that Senator Ademola Adeleke's group have not yielded to the terms of the reconciliation as put forward by the National leadership of the Party.
"At the instance of the National Chairman Prince Uche Secondus, Dr Ogunbiyi and Senator Adeleke had another meeting on the night of 2nd August, 2018 with a BoT member to conclude on the issue. "The Senator gave a firm promise to be honourable and get Hon Adeogun's resignation.