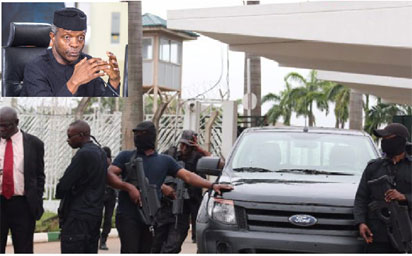 By Donu Kogbara
Last week, masked, gun-toting Department of State Security, DSS, operatives blockaded the National Assembly at the crack of dawn. Their aim, we were told, was the removal of the Senate President, Dr Bukola Saraki, who has been at loggerheads with the Presidency for most of his three-year tenure.
This crude assault on the seat of Nigerian democracy generated widespread outrage in both domestic and international circles. And the Acting President, Professor Yemi Osinbajo, moved quickly and boldly to disassociate himself and the entire Buhari Administration from the embarrassing, image-wrecking fiasco.
Before close of business on the same day, Alhaji Lawal Daura, the DSS Director General, who ordered the blockade, had been fired and detained.
Rumours have been rife ever since about who should be blamed and about what was said and done behind closed doors in the corridors of power.
Many commentators are convinced that: Daura had been fully in cahoots with his Katsina kinsman, President Buhari (who was, conveniently some cynics say, abroad at the time of the blockade)…; and that Daura was being sacrificed and scapegoated only because the dastardly plan had spectacularly failed.
Others insist that Daura is a hothead who recklessly acted alone because he wanted to rid his "brother", Buhari, of a troublesome and powerful adversary.
Some are saying that Osinbajo did not initially get a supportive response from his Boss when he expressed a determination to get rid of Daura and only got permission to sack Daura when he threatened to resign.
Others are saying that Buhari and Osinbajo were totally on the same page from start to finish and that both had either secretly approved of Daura's plans until they went awry OR that both were in the dark and felt, when they discovered what Daura was up to, that Daura had massively misbehaved and must go.
Meanwhile, the ruling party, the All Progressives Congress, APC, which was suspected across the board of being deeply involved in Daura's conspiracy, did exactly what I would have urged it to do – in a desperate bid to wipe the egg off its face – if I had been the APC's communications advisor:
The APC's National Publicity Secretary, Yekini Nabena, issued a statement strongly condemning the National Assembly invasion and describing it as an "act of brigandage and affront on the sacred symbols of our budding democracy."
"Our Party, said Nabena, "remains a law-abiding political organisation and advises every constituent part to abide by the tenets of our Constitution…
"…Whilst our contention with the [current] leadership of the National Assembly…is a matter of public record, we still believe that the legislature as an independent arm of government must be allowed free reign for vibrant contestation of ideas and values amongst its members within the context of their constitutional mandate and for the benefit of the Nigerian people."
The APC has also assured the general public that its Chairman, the famously combative, Saraki-hating ex-trade unionist and former Edo State Governor, Comrade Adams Oshiomhole, did not pull Daura's strings in the background.
So, yes, by claiming to be as outraged as critics of the blockade, the APC did (in my opinion) the best it could possibly have done under the circumstances.
Except that the government, presidency and APC have such huge credibility problems at the moment that very few people I know believe their denials!
I personally regard Osinbajo as instinctively civilized and as more pastor, lawyer and academic than politician. But I have been unpleasantly surprised by the number of people who think that I am being ridiculously naïve.
These Osinbajo detractors admit that he is more polished and more intellectual than the average Naija Oga At The Top. But they do not share my view that he is more principled.
What do Vanguard readers think?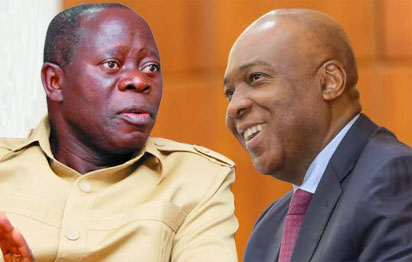 Give up and move on!
Last week, Oshiomhole gave Saraki a final warning to either resign or face impeachment, on the grounds that he recently left the APC and is now with the Peoples Democratic Party, PDP, which is the minority party in the Senate.
Saraki has calmly and repeatedly said he has no intention of resigning.
I wonder when Buharists will get over their embarrassing and
counter-productive obsession with Saraki, who is as smooth, wily and effective as they are bumbling, rough-around-the-edges and ineffective.
Because Buhari had another nominee for this prestigious position, diehard Buharists never wanted Saraki to be Senate President, even when he was a member of their party. And they have fought him tooth and nail since he outsmarted them in 2015 and cleverly snatched the glittering prize from under their noses; but they have not been able to fight him to a standstill.
They have tried everything, including throwing corruption charges at him and trying to foist bank robbery allegations on him and attempting to arrest him.
Bluntly put, the Buharists have failed big-time within this context; and their greatest achievement has been to drive Saraki into defection and make him far more popular and iconic than he would have been if they had philosophically accepted his victory, made peace with him and worked closely with him.
And I really don't know why Nigerian VIPs are so despotic, petulant, myopic, controlling and inflexible. Buharists are always telling me that it is only fair that Buhari be allowed to more or less appoint his own nominee. But these very same folks keep shouting "democracy" without being able to explain why a Senate President has to be the best buddy and lapdog of the President President!
Oshiomhole is seriously seething and has said that the public should not be "misled into turning villains into heroes and twisting the facts."
But while I don't know anyone who regards Saraki as a saint, I also don't know anyone – except my diehard Buharist friends! – who thinks that he is more villainous than those who are obsessed with attacking him!
So, yes, the methods Saraki used to become Senate President were not particularly ethical. But so what? His methods weren't demonic either. Besides, since when were ethics a major priority of the Nigerian political class? Are Saraki's enemies any more like the Blessed Virgin Mary than he is?!
At least Saraki speaks beautiful English and can relate well to our foreign partners and has a super-smart brain and would be a very credible Head Of State if he ever runs for the highest office in the land and wins!
The best advice I can give Oshiomhole et al is this:
Give it a rest, guys! Graciously accept defeat. The more you harass Saraki, the more folks will sympathise with him. You will struggle to win the 2019 election, so focus on the bigger picture. Find something else to fixate about. And move on.
Responses to: [email protected] or to 0802 747 6458 OR 0811 675 9752 (texts only). PLEASE KINDLY NOTE THAT UNLESS YOU REQUEST ANONYMITY, YOUR COMMENTS MAY BE PUBLISHED, WITH YOUR NAMES AND CONTACT DETAILS ATTACHED.