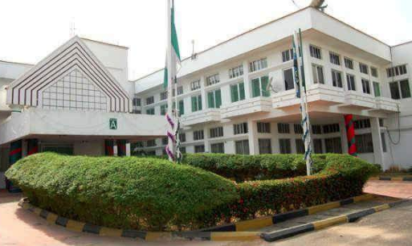 Bola Ige House, Osun . Governor's House
The government of the State of Osun has explained the fire that gutted the main room of the Governor's Office today, saying that there was no life lost.

Sola Fasure, the media adviser to Governor Rauf Aregbesola made the clarification in a statement Monday night.
"At about 4.00pm on Monday July 23, 2018, there was a fire incident at the main room of the Office of the Governor, Bola Ige House, Abere. This was occasioned by one of the air conditioning units in the room.
"Security operatives on sentry duty attacked the fire with dry fire extinguishers on standby before they were complemented by officers of the state's fire brigade. They succeeded in putting out the fire after about 30 minutes.
"The fire was contained effectively in the main room and did not extend to any other part of the building.
"No life was lost and no person or animal was injured. No file or any document was burnt and no property, other than the air conditioning unit, was damaged or burnt. The smoke from the fire however scarred the white walls of the room and darkened them.
"Further investigation is ongoing and the public will be briefed as and when necessary".