By Dennis Agbo
ENUGU—THE Movement For The Actualisation of The Sovereign State Of Biafra, MASSOB, has asked regions in Southern part of Nigeria and the Middle Belt to boycott the 2019 general elections.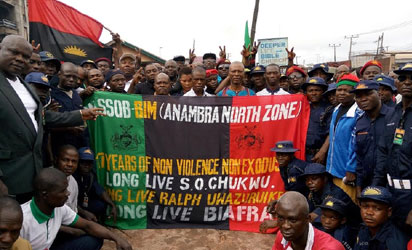 MASSOB predicated its urge on the alleged misconduct of Ekiti state governorship election and fears of a more sinister plot to rig the general elections next year.
The pro-Biafra group particularly called on the Igbo political class to disassociate themselves from next year's planned election, adding that if conducted, the poll would go further to reduce Ndigbo to third class nationality in Nigeria.
MASSOB's Director of Publicity, Samuel Edeson in a statement in Enugu  yesterday reiterated the group's earlier position that President Muhammadu Buhari would go down in history as the last president of Nigeria.
Edeson said MASSOB believes that nothing good will ever come out of the 2019 election but would rather translate to a continuation of political, religious, social and economic slavery of Nigerians.
The MASSOB spokesman said, "what happened in Ekiti  state will be a child's play compared to the manipulations, intimidations, assaults, riggings and killings that will be masterminded and executed in 2019.               "MASSOB is calling on the Western, Eastern and Middle Belt regions to frustrate and disallow every political step and programme of Buhari's INEC in preparation towards the greatest political fraud called 2019 general elections. The 2019 general election is a political genocide.         "The Buhari-led Federal Government has already perfected plans with his brother in charge of INEC to rule this political entity called Nigeria by all means.
"It is a protest against injustice, a protest against marginalisation, a protest against intimidation and a protest against tribalism."
Subscribe for latest Videos