By Godwin Oritse
The Nigeria Customs Service (NCS) says it has embarked on Time Release Study (TRS) to measure the efficiency of its trade facilitation role and reduce the turn-around time for cargo clearance.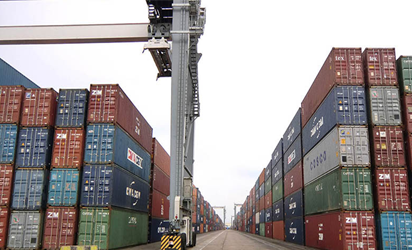 Mr Wale Adeniyi, Deputy Commandant, Customs Training College, Gwagwalada, Abuja, disclosed this in an interview with the News Agency of Nigeria (NAN) at a workshop on TRS in Lagos last week.
The workshop, organized in conjunction with World Customs Organisation (WCO), was attended by clearing agents, freight forwarders, terminal operators and government agencies operating at the ports.
Adeniyi, coordinator of the study, said WCO had deployed some tools to test the efficiency of customs administration in Nigeria.
According to him, TRS is a scientific way of measuring the time it takes between the arrival of goods and its clearance.
He stated: "The Comptroller-General of Customs (CGC), Retired Col. Hameed Ali, has set up a working group comprising representatives of all stakeholders that have anything and everything to do with the clearance of goods.
"The group's mandate is to design the scope, methodology, sampling method and how to publicise the results that will come out of the study.
"The group will also make recommendations and will implement the recommendations that will come from the study.
"The NCS is working in partnership with the World Customs Organisation that is providing technical expertise and training of working group members." Adeniyi said that the group had been able to validate the business process involved in clearance of goods and accessing online tools for conducting TRS.
He explained that the group would fix a date to design and test the questionnaire it collected from the data.
He also disclosed that government had consolidated the port procedures into a single platform to achieve Federal Government's Executive Order on Ease of Doing Business at the ports.
He added that both customs and terminal operators were working towards 24-hour cargo clearance to make Nigeria the hub in West and Central Africa region.
Earlier at the workshop, Nigerian Ports Authority (NPA) Harbour Master, Capt. Uduiguomen Eboreime, said it took a vessel less than an hour to berth after arrival at Apapa port.
Eboreime said that before any vessel could berth at the ports, such vessel would have paid NPA bills before the agent could have access to the cargo.
Mr Collins Farinto, Deputy President, Association of Nigerian Licensed Customs Agents (ANLCA), said that efficient cargo clearance procedures could facilitate quick clearance of goods at ports.
He urged customs authorities to improve on educating the public on clearing procedures to reduce the time spent in cargo clearance.
In his closing remarks, Apapa Port Customs Area Controller, Jibrin Musa, urged all stakeholders to comply with government regulations concerning cargo clearance.
Musa also urged stakeholders to support the Customs' revenue generation and trade facilitation mandate.