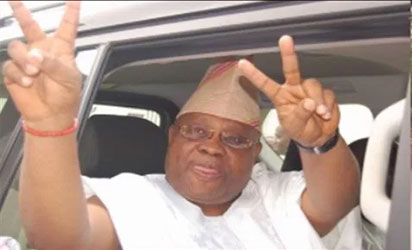 By Gbenga Olarioye
THE Osun State High Court sitting in Osogbo has adjourned ruling on interlocutory order seeking to set aside the election of Senator Ademola Adeleke as the Peoples Democratic Party, PDP governorship flag bearer over alleged non-submission of his Secondary School leaving certificate.
Two members of the PDP in the state have asked the court among other things to stop the Independent National Electoral Commission, INEC, from accepting the name of Senator Adeleke as the party's candidate in the September 22 governorship election.
After listening to the submission of counsel to the plaintiffs, Barrister Olufemi Ayandokun, the presiding judge, Justice David Oladimeji, said that he had to study the processes filed by the applicants before ruling on the matter.
He thereafter adjourned the matter till tomorrow, Thursday, July 26, 2018 for ruling.
The plaintiffs had in the suit filed at the Osun State High Court on July 24, 2018,  sought an interlocutory order setting aside the election of Adeleke who was the first defendant in the matter, arguing that he did not satisfy the constitutional requirements to contest the governorship election.
In a separate 29-page affidavits of extreme urgency deposed to by the two applicants, Rasheed Olabayo and Oluwaseun Idowu with several exhibits attached, they claimed that Senator Adeleke did not possess School Leaving Certificate as required by Section 177 (d) of the 1999 constitution. While urging the court to restrain the PDP from submitting and presenting his name as governorship candidate in the 2018, they also asked the court to stop INEC from accepting his nomination. The plaintiff also attached a copy of Adeleke's detailed results by subjects of the examination conducted by the West African Examinations Council/General Certificate of Education Ordinary Level May/June 1981 at Ede Muslim Grammar School, Ede with Centre No. 19645 and examination number 149.
Olabayo claimed in his affidavits that, "I know as a matter of fact that the 1st defendant attended Muslim Grammar School, Ede but did not leave with a School Leaving Certificate having absented himself from the school leaving examinations but for English where he scored a failing mark of F9. They claimed that if Adeleke's name is presented, the PDP will be disadvantaged and left without a valid and eligible candidate given that he did not possess a School Certificate Level Education and thus lacks the requisite qualification to be "so presented let alone contest the 2018 Osun State Governorship Elections".