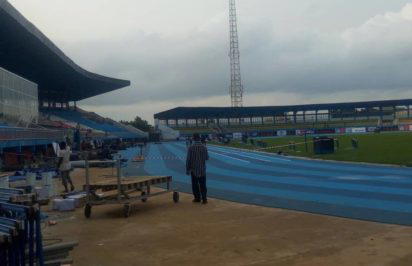 Stephen Keshi Stadium, Asaba,
Stephen Keshi Stadium, Asaba,
With only a few days to the start of the 21st African Athletics Championships, the Local Organising committee, Head of Technical, Yusuf Alli said the best of the continent's athletes will be in Asaba, Delta State to vie for honours.
The Former African long jump record holder stated that after months of working round the clock
to get things done, Asaba is now fully ready to host Africa's best athletes.
"Yes, we are fully ready to host Africa now, after the recent test event (African tour) that will held to test run our facilities, we have corrected the few lapses we saw and now we are good to go," the former
Africa record holder in the men's Long Jump event stated.
Alli said he is confident of a good show from the African athletes that would be on parade; adding that there would be much excitement on and off the pitch of action.
"I am happy that the participating countries are taking this championship serious and with the facilities we have put in place, one can only expect the best of athletics from August 1-5" Alli assured.
South Africa are the defending champions of this biennial athletics championship and while they are hoping to complete a hat-trick of wins in Nigeria, they are braced for a tough battle with the likes of Kenya and of course, hosts Nigeria.