By Emmanuel Aziken, Political Editor
Governor Aminu Waziri Tambuwal of Sokoto State has urged Nigerians to reject what he Tuesday described as "prison-yard democracy, typified by the ignoble meddlesomeness, rascality and high-handedness of some security agencies against democratic institutions" in Nigeria in recent times.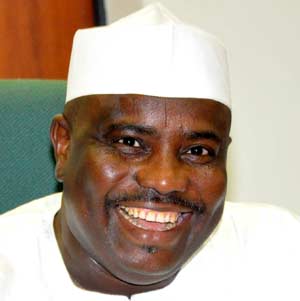 Speaking against the background of Monday's siege to the Benue State House of Assembly and other perceived violations of the country's democratic culture including the attacks on the national legislature, the All Progressives Congress, APC governor described the developments as aberrations that go against the fundamental human rights of Nigerians.
Tambuwal who became the first APC governor to openly chide recent happenings in the country said:
"Nigerians must, in strong terms, say no to prison-yard democracy, where the rights of the citizenry are shackled to the caprices of a few, as if we now run a nation of helpless inmates.
If the people of Nigeria are so unfortunate to endure the growling nightmare occasioned by deprivation of most things that a democracy should ordinarily provide; If they are now accustomed to the pangs of hunger, unemployment, shabby infrastructure, poor healthcare and general hopelessness, they should, in the interest of democracy and the youths, stand against anything that has the potential of robbing them of their inalienable rights to live and make choices as free citizens."
The governor said further: "These are unfortunate incidents, an aberration, a reprehensible attack on the fundamental human rights and privileges of fellow Nigerians and a direct attack on our fledgling democracy. We should condemn this crass and impudent exhibition of uncivilized conduct, so that we can keep peace and maintain a civilized society.
"Democracy is about freedom, of choice and association. It is about the people and the supremacy of the will of the people. Democracy, loses its essential value when the overall interest of the people takes a back seat in any supposedly democratic setting", the governor said.
He adds that legitimate political choices and movements, including cross-carpeting, are part of a democratic enterprise, saying: "Any attempt to bully people out of their legitimate, democratic choices is a war against democracy, the rights of the citizenry, that power this unique people-oriented system of governance."
Tambuwal said: "I also call on our leaders at all levels, to guard their utterances, in order not to drive our nation further down the path of divisiveness and ethnic/religious mistrust. Let us water our democracy, using the fountains of equity, fairness and justice for all."