By Wale Akinola
LAGOS—AFTER the acquittal of the Senate President Bukola Saraki of false assets declaration charges by the Supreme Court, a chieftain of the Accord Party and former presidential spokesperson, Dr Doyin Okupe, has urged Saraki to take advantage of his increasing popularity and vie for the 2019 presidential election.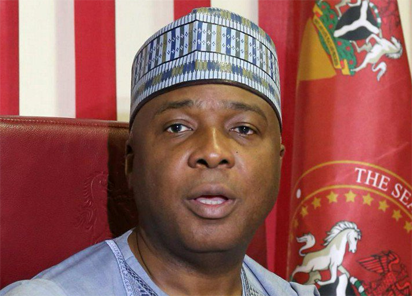 Okupe gave the advice while speaking on the crisis in the All Progressives Congress, APC, occasioned by the formation of the Reformed APC by some aggrieved members of the ruling party.
The former presidential aide, who fielded questions on Channels Television programme, Sunrise Daily, Monday, said: "Apart from President Muhammadu Buhari, the next most visible and most notable politician in Nigeria today is Bukola Saraki and he would do himself a great favour if he steps into the ring and run for President. He has
the pedigree.
"Saraki has the required exposure and experience from being a Special Assistant to the President, to being a two-term governor and now Senate President. He has been through different stages of leadership and this makes him stand out among many other aspirants who have indicated interest to become President."
Answering a question on the possibility of Saraki clinching the APC presidential ticket against Buhari who has indicated interest to run for second term on the platform of the APC, he said, "APC would be doing themselves a favour if they do not allow the President to run, and I don't see Saraki contesting the primary in the APC, it is impossible.
The hostility against him in the APC is too much. That is why he needs to move to another party where he can form alliance with other parties to contest."
On the chances of Buhari in winning the 2019 election amid the crisis rocking the APC, the former presidential spokesperson said, "The
Buhari government and the APC are presently at the lowest ebb of popularity. The saying that Buhari has 12million votes in the North is delusional. Northerners are also affected by the economic problem Nigeria is facing and a large percentage of the goodwill and popularity Buhari enjoyed before the 2015 elections have diminished
because the people are not happy.
"For instance, Buhari had about two million votes from the Middle Belt; now 80% of that is gone."
Okupe added, "Any vote Buhari and the APC lose in the North cannot be recovered anywhere else".