As FG says Govs responsible for insecurity in states—-FG
—Attributes border insecurity to border ties
-Says no better candidate than Buhari in 2019
-Explain why the military won't be withdrawn for internal security
By Johnbosco Agbakwuru
ABUJA – PRESIDENT Muhammadu Buhari on Thursday in Abuja declared that good and responsible journalism remains vital to good governance, especially in an era of fake news and hate speeches.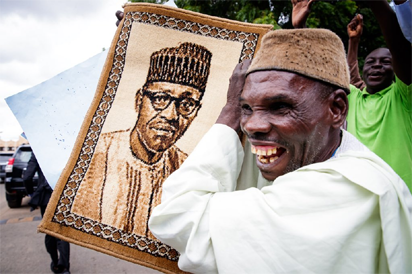 The Federal Government has also accused State Governors of being responsible for the security challenges in the country as a result of lack of good governance just as government has attributed the challenges in tackling insecurity at the border areas to family ties by neighbouring border communities where people of the same paternity are leaders in the different communities.
Meantime minister of Interior, Abdulraman Danbazzau has said that there was no other candidate better than President Muhammadu Buhari for the 2019 elections, adding that the government was making steady economic growth.
President Buhari spoke at the Presidential Villa, Abuja where he declared open the world congress of the International Press Institute (IPI), with the theme – 'Why Good Journalism Matters: Quality Media for Strong Societies," which has in attendance international journalists including the Publisher of Vanguard Media, Mr. Sam Amuka, the General Manager of Vanguard, Gbenga Adefeya among others.
The President said the theme of this congress was timely and appropriate, and that even as media houses struggle for survival, among other challenges, the press must stick to its fundamental ethics for the society to tow the right path to development.
His words: "It is the first time in the 68 years history of the media's premier platform for press freedom that editors, media executives and leading journalists would gather in this country for its World Congress and General Assembly. Nigeria is most honoured to host you.
"Our country has a rich history of robust relationship with the IPI; prominent Nigerian journalists and media operators were and continue to be in the leadership of the international body. But perhaps the most significant symbol of this special relationship is the Nigeria Institute of Journalism, Ogba, Ikeja, Lagos established by IPI in 1963. It is our pride that your vision of a professional journalism training institution in Nigeria has taken firm root.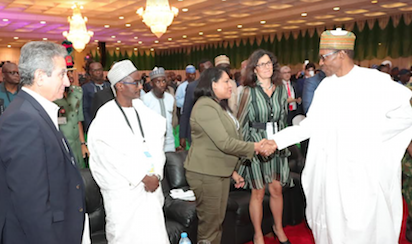 "Your annual congress is holding in Nigeria during a period of global terrorism. Nigeria experiences that scourge through Boko Haram, which has been technically degraded and has no territorial hold anywhere, anymore, in its northeast operational base. The Internally Displaced Persons are gradually returning to their communities in reasonable safety and security.
"It is a reflection of your assessment of Nigeria as a safe country that you gave the country the hosting right for this conference. As you have seen since your arrival, you made a wise and right choice.
"The changing media landscape, the explosion of the social media and the rapidly evolving new technology have had profound impact on media business and media practice. It is satisfying, therefore, that you have chosen an appropriate theme for your conference: Why Good Journalism Matters: Quality Media for Strong Societies.
"In a world where the borderline between hate speech and free speech has become blurred, good journalism matters. In an environment where fake news dwarfs investigative reporting, Good Journalism Matters. For survival in an increasingly competitive field, Good Journalism Matters. Good journalism promotes Good Governance. I therefore urge participants to give depth to the topic in your discussions and conclusions.
"One of the reform initiatives of this administration is the introduction of visa on arrival policy. The policy is designed to aid ease of doing business in Nigeria. I am glad that international delegates to this conference are beneficiaries of this policy.
"Nigerian government has provided necessary support for a successful hosting right from the time our delegation presented its hosting bid in Qatar to the granting of that right in Germany last year."
There were goodwill messages from the IPI Executive Director, Ms. Barbara Trionfi; and Chairman of the Local Organising Committee, Nduka Obaigbena.
Trionfi observed the plight of journalists in the course of their duties, disclosing that they are being imprisoned, denied access to justice, threatened and insulted on social media, and killed for investigating cases of corruption.
She said that "at least 43 journalists have been killed so far in 2018 in places like Afghanistan, Mexico, India, Pakistan or the Philippines to mention a few.
"Also here in Nigeria, a country with a very lively news industry which enjoys a good degree of press freedom, safety has been a serious problem for journalists, not only those covering the areas where insurgents are active but also journalists covering corruption have been targeted."
Before this, there was a 'Conversation With Nigeria', an interactive session during which some government officials discussed some of Nigeria's challenges. It was moderated by CEO of Channels Television, John Momoh.
In answering a question during this session, Minister of the Interior, Abdurahman Danbazzau, heaped a substantial blame for insecurity in many states of the federation on the inability of the governors to deliver good governance to their citizens.
This came against the background of latest comments by Zamfara State governor, Abdulaziz Yari, that he is handicapped from performing his role as the chief security officer of the state.
He said that the insurgency in Nigeria started in 2010 and lasted about six years before the Buhari's government came in 2015, adding, "so realizing that this is a regional issue, the first thing he did was to seek partnership with the neighbouring countries and he went and visited Lake Chad Development Commission and the Chad communities.
"Realizing the fact that with the 1994 UN Human Development Report, which has redefined security from the traditional perspective of territorial delineating to the issue of human security, the government is focusing on areas that will be people oriented and those areas in particularly is in the agricultural sector with the value chain.
"The completion of dams that have been abandoned for several years and the government is leading other African countries within the Lake Chad Development Commission region in the recharging of Lake Chad which has dried up by about 95 percent and has denied over 40 million people the opportunity for livelihood in terms of farming irrigation etc. and so we see the impact of that kind of situation that is giving in terms of security within that region and it is not surprising that today is that of Boko Haram
"Coming to the issue of borders, our borders are porous and expensive for if you go round the whole borders in Nigeria covers about five thousand square kilometers and they are quite a number of challenges. One, there is ECOWAS Protocol on Free movement of cows, goods and services which Nigeria is a signatory. It is important to also know that the purpose of that protocol is for regional integration.
"It is very important and at the same time, we are also concerned about the security at the borders. A little efforts have been made to ensure that we have effective relationship both at bilateral and multi lateral levels to ensure that we do not breach borders security.
"Secondly, because of the porousness of our borders, government was able to provide a lot of logistics to the immigration department so that it can enhance the ability to cover the borders but that is not adequate because it is extensive, you cannot cover such extensive.
"So part of what we are doing now, the major aspect of it e-border. We have introduce the use of biometric processing, secondly we are also using technology for monitoring our borders and also providing the ability to respond to emergencies. So these are the issues that the government is tackling
"You will quite agree the fact that with the situation whereby you have half brothers that have virtually have common cultural affinity it is extremely difficult. I have visited some towns and I requested to meet with the leadership of border communities and when they came, then we started discussing the security of our borders and coincidentally, the Chief of the community that is between Nigeria and that that is within Niger Republic are brothers, same father same mother. So they did not like me to talk about borders because as far as they are concerned there is no border. So these are some of the challenges we have to deal with.
Asked why he thinks Nigerians should reelect President Buhari in 2019, Danbazzau said: "Continuity, Nigeria can't get anybody better than President Buhari."
Answering same question, Minister of Finance, Kemi Adeosun, said "Nigeria is well positioned. Nigeria is on the path of sustainable growth, recovery and we have never had it so good", while Minister of Industry, Trade and Investment, Okechukwu Enelamah, said "the most important thing under the leadership of the President, we have changed the conversation of Nigeria, we are now talking about the importance of security, of fighting corruption and of a good economy."
On his part, the Minister of Information, Lai Mohammed, said "Because we have delivered on all our promises. We promised we were going to fight insecurity, we have fought insecurity…. We promised we were going to fight corruption, and we have."
He said, "We promised Nigerians that we were going to fight insecurity, we fought insecurity; we promised Nigerians that we were going to revive the economy, we have revamped the economy..
"We promised we were going to fight corruption, corruption today is a taboo in Nigeria,''