Argentina coach Jorge Sampaoli defended star player Lionel Messi on Wednesday and said his side's World Cup match against Croatia was effectively a must-win.
The beaten 2014 finalists go into Thursday's crucial Group D clash desperate for three points after a disappointing 1-1 draw with minnows Iceland in their first outing in Russia.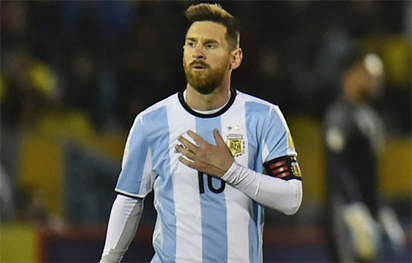 The South Americans have been criticised for their performance. They took the lead through Sergio Aguero but conceded a goal to Alfred Finnbogason before Messi missed a second-half penalty.
Sampaoli admitted Argentina's "window of opportunity" was narrowing after the draw but said he was confident his team could put things right.
"We need to move on to the next phase, that's what we came here for," he said. "We don't want to go to the last match not having resolved that."
Asked repeatedly about Messi, Sampaoli said the disappointing start against Iceland was not the fault of his star player, despite the penalty miss.
"We were quite upset about not having won the match but I think… Leo should not shoulder all the responsibility."
He added: "When we succeed with Argentina, everyone takes credit for it but when Argentina loses, it's always Leo's fault. I think that's quite unfair."
Sampaoli is expected to make several changes to his team for the Croatia match, but would not be drawn on his selection as he said he had not yet spoken to his players.
Croatia are the group leaders after a 2-0 victory against Nigeria in their first match.
Anything other than a win on Thursday would likely leave Argentina needing a victory in their final group game against the Africans in Saint Petersburg on June 26.
Croatia coach Zlatko Dalic ratcheted up the pressure on Argentina by saying his side could afford to play without fear after their opening win.
"It's going to be the easiest game for us because we have nothing to lose. It's going to be a great game," said Dalic. "The pressure is less on us because we have three points in the bag."
He said he could make changes to the team but nothing "major" and said Croatia would go for victory.
Dalic added that he would not make any special plans for Messi as "no single player can stop him".
Messi will come up against his Barcelona teammate Ivan Rakitic, who described the Argentine as the best player of all time.
He said he had not spoken to Messi during the tournament.
"We know that the match is crucial both for us and the Argentinians," said Rakitic. "There's one match already down and there isn't much room to miss opportunities."