By Emmanuel Unah
Belief in witchcraft in Cross River State, especially in Calabar, the state capital, is widespread. Witches, female, and wizards, male, are believed to possess diabolical powers to attack anyone they so choose. Virtually every misfortune is attributed to witchcraft.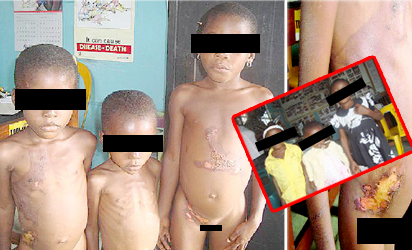 If a person loses his job, witches are said to be responsible for his plight. When a man dies suddenly perhaps out of an illness that is medically proved, his demise is attributed to witchcraft attack. When someone is killed by alcoholism, it is believed that witches in the family cast a spell on him or if a lady is of marriage age and there is no man to engage her as wife, witches must have painted her black or blinded men from seeing her .
Incidentally, most of those at the receiving end of these weird accusations are family members, particularly children, who are accused of being witches when misfortune strikes their fathers are mothers. They are then subjected to severe torture to make them "confess" how much they have afflicted their parents or family members.
Hardly does a week pass without the story being told of one child being branded a witch by a prophetess or a prophet in churches whose main preoccupation is to identify witches and wizards and thus wreaking havoc among family members. To make them confess, some of these kids have their private parts pierced with hot iron, some are bound hands and legs and thrown into rivers to be eaten by fishes, some are tied and left without food until the die of starvation, while some are simply sent away from home which accounts for the crowd of street kids roaming the streets of Calabar.
A few months ago, a 40-year-old man, John Friday Akpan, from Akwa Ibom State, was arrested by the police for allegedly listening to an herbalist, one Okokon, who was said to have tagged his two children, Elisha Udobong Friday Akpan and Esther Friday Akpan, as witches who caused his poverty.
Akpan subjected the two children, aged 12 and 6 respectively, to harrowing treatment by nailing them to a plank and locking them up in a thatched hut without food for days. According to the father, the herbalist explained to him that the children took his money to their "master in the witchcraft world and therefore deserved no mercy".
The two children, whose emaciated and dirty appearance replicated the images of starving children in famine ravaged countries following weeks of starvation, said they survived on water given to them by one of their half-sisters. "Our sister, Peace, usually gave us water inside the hut when our father and our mother had gone out", Esther said.
The father was quoted to have said, "These children don't want me to progress. They have tied my prosperity in the witch world and, since I started working in my workshop, I have not achieved anything
According to the kids, the family used to reside in Akpabuyo and the father sent them to a private school in Ikot Nkanda. However when their mother died and Akpan took another wife, Iquo, the children narrated that the story changed. "My stepmother said a herbalist told her that a woman, who used to live near our house in Akpabuyo, gave us food and she put something in the food and, when we ate it, we changed to birds at night and took our fathers money to our master in the witchcraft world", Elisha, who is in JSS 1, said.
According to the kids, Elisha was alleged to have taken N4, 000 naira while Esther took N2, 000. The claim angered their father and stepmother who started beating them severely and denying them food "because they said we took the money to our master".
Another kid, seven-year-old Idoreyin, who said he is from Okobo in Oron but resided in Calabar with his uncle after the death of his father, claimed his uncle wanted to do away with him on the suspicion that his travails were caused by him. "He engaged the services of two boys whom he said were to work on his farm and asked me to take water and lead them to the farm", the boy narrated.
"But as we were going, I was lucky and overheard them asking themselves where they would bury me after killing me. I quickly dropped the gallon of water I was carrying and took to my heels. They came after me but I was too fast for them and escaped "
Another man, Emmanuel David Akpan, was arrested for allegedly inflicting grievous injuries on his three kids after accusing them of bewitching him.
Akpan, and his wife, stepmother to the kids, were arrested by the police from the Federal Housing Police Station, Calabar for allegedly bathing the three little girls, Imaobong, 7, Nyenime, 5, and Joy, 3, with hot water, after binding their hands and legs with   electric cables.
At the police station, Akpan said his provocation stemmed from nightmares and weird dreams he was having every night, saying they were caused by the three daughters.
"These children always attacked me in my dreams, they want to kill me".
Reacting to the tagging of children as witches, Mrs Lilian Ekanem of Women, Youth and Children Uplifting Foundation, said the United Nations International Children's Fund, UNICEF, and the Child Rights Act have strong provisions against parents and persons who subject children to torture, saying such people are liable to prosecution. "The action of some parents and family members is evil and such should be condemned. How can you tag an innocent child God has blessed you with as a witch?"
According to her, many parents had been sent to jail for labelling their children as witches and torturing them while many cases are still pending.
"Some weeks ago, a man was sentenced to three years in prison for burning the buttocks of his daughter on the allegation that the girl was a witch. I think the judge was lenient because we were asking for 15 years jail term"
Mr James Ibor of Child Rights Organizations also told Sunday Vanguard that children should be protected against domestic violence, inhuman treatment and stigmatization."Tagging a child a witch is callous and against the law and, in Cross River State, there is a law against such action and we are making sure anyone caught stigmatizing   a child   is made to face the law".