Deadly strikes by Israel against alleged Iranian sites in Syria have raised fears of a dramatic escalation in regional conflict, but the situation remains shrouded by contradictory accounts and uncertainty.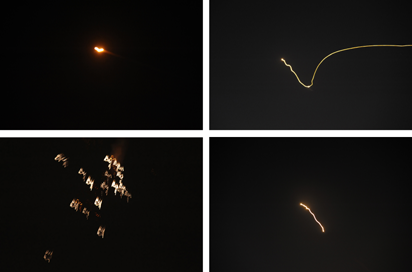 Israel says its raids early Thursday were in immediate response to Iranian missiles raining down on the occupied Golan Heights.
But there has been no official statement from Iran, and analysts in Tehran say any missile strikes were conducted by the Syrian military.
Outside observers see a dangerous game of brinkmanship.
"The rules of the game are worked out by trial and error, by push and shove. The pushing and shoving has become more intense. We are getting closer to the brink," said Heiko Wimmen, of the International Crisis Group.
Israel has repeatedly warned it considers an entrenched Iranian military presence in war-ravaged Syria to be a dangerous red line.
In recent years, it has been suspected of carrying out strikes on installations manned by Syrian, Iranian, and allied Lebanese fighters across Syria.
It was only a matter of time before Iran pushed back, said Wimmen.
"The point will come with these actions, where the Iranians will say: we have to push back forcefully, we have to establish deterrence against the Israelis if we want to stay in Syria," said Wimmen.
Israel, too, may feel emboldened by US President Donald Trump's decision this week to withdraw from the 2015 Iran nuclear deal.
"Israel has been chomping at the bit to take a big bite out of Iran's forces in Syria," said Nicholas Heras, of the Center for a New American Security.
– 'A nightmare scenario' –
Israeli Prime Minister Benjamin Netanyahu sees that decision as a "green light to go after Iran in Syria, the consequences be damned," said Heras.
"The Israelis believe they are facing a nightmare scenario right now, where Iran is on the march in Syria, with the intention to start a war that will end Israel," he added.
Syria's south is a complex puzzle: rebels, jihadists, Syrian government troops, Iranian forces, and fighters from Lebanese Hezbollah all have a presence there.
A de-escalation zone agreed last year for southern Syria was meant to reduce violence, but Israel has not been reassured.
Wimmen said two actions could trigger a large-scale confrontation: a missile killing civilians in the Israeli-occupied Golan, or retaliation against Israel by Hezbollah.
But analysts based in Tehran deny Iran is seeking direct conflict with Israel.
Foad Izadi, of the world affairs department at the University of Tehran, said Iran was not in Syria to fight Israel — however often the Israelis may say otherwise.
"Iran's deterrence against Israel is done in Lebanon with more than 100,000 missiles, not in Syria," he said, hinting at Lebanese movement Hezbollah's stockpile of rockets.
And Mohammad Marandi, an analyst who was part of Iran's negotiation team leading up to the nuclear deal, said the conflict was more about Damascus than Tehran.
"Whatever happens in Syria happens under the command of the Syrians," said Marandi.
"The Israelis want to make this into an Iran-Israel thing, but it isn't. They are provoking the situation to murder Syrians and Iranians who are fighting ISIS and Al-Qaeda," he added.
– The Russia factor –
Several analysts said the key to avoiding a more serious escalation lay with Moscow, which has ties with both Tehran and Tel Aviv.
"Unless Russia steps in, and plays the referee between Israel and Iran, the risk of escalation is certain," said Heras.
But an analyst at London's Chatham House, Yossi Mekelberg, told AFP that the strikes on Iranian targets "were likely undertaken with tacit Russian approval".
"Russia is not happy with Iran gaining too much power, too much influence there," he told AFP.
Israel is thought to have conducted at least three separate attacks against Iranian positions in Syria in recent weeks, with the deadliest killing seven Iranians in a Syrian airbase on April 9.
There are varying death tolls for Thursday's strikes, ranging from three dead acknowledged by Syria's army to 23 killed according to a war monitor.
Marandi said Iranians did not seem to have been among the casualties in Thursday morning's attacks.
"All the Iranians in Syria are in contact with their families, and on social media. Their pictures would be on the internet in a couple of hours," the Iranian analyst said.
Still, both sides were quick to claim the clashes had exposed the other side's weakness.
Marandi said most of the rockets from Syria had penetrated Israel's "Iron Dome" defences and hit key sites, including intelligence-gathering centres.
But Israeli Brigadier General Nitzan Nuriel, former director of the counter-terrorism bureau, said the missiles had been intercepted or fallen short.
"Now the ball is in the Iranian side," he said in a conference call with journalists.
"They need to decide if they want to increase the friction and for example ask Hezbollah to do something, or they understand that at this stage they cannot take action against us and need to wait."