…1,315 armed robbery attacks, 392 kidnapping, 359 cult-related cases recorded since 2014 — POLICE CHIEF
By Olasunkanmi Akoni & Monsuru Olowoopejo
lagos—THE Nigerian Ambassador to Benin-Republic, Mr   Kayode Oguntuase,  yesterday said the border bilateral agreements between both countries (Nigeria and Benin Republic) only existed on papers, saying: "They were never executed."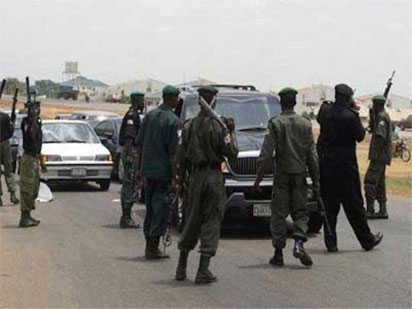 This came as Lagos State Commissioner of Police, Mr Imohimi Edgal said between 2014 and today, a total of 1315 armed robbery attacks, 359 cult-related cases and 392 kidnapping cases were recorded, with several arrests and prosecutions ongoing.
Edgal also informed that the activities of the dreaded Badoo cult group, hitherto prevalent in Ikorodu axis of the state, as well as militancy, especially along the riverine communities had been degraded in the state
The Ambassador and Imohimi, spoke at the one-day Lagos State security summit, in Lagos, with the  theme: "Securing Lagos State: Towards a Sustainable Framework for Modern Mega City."
The ambassador, who spoke with newsmen on the sideline, lamented that the non- implementation of the agreements was affecting proper protection within the seven borders that existed between both countries.
"There is need for both countries to obey the protocols signed earlier. We have the Badagry protocol, ECOWAS free trade protocol. We discovered that some of these protocols only exist on papers. We must show more commitment to it.
Most of the goods in Benin-Republic weren't made within the country, they were brought there. These goods, especially the bad, which are on transit found their way into Nigeria. The Federal Government talk more of rice and vehicles but there are other more serious goods that found their way into Nigeria; some of them are fake drugs."
Earlier, Edgal said: "In comparison, when I became Commissioner of Police, Lagos State in September last year, I introduced my own policing plan powered by the strategy and philosophy of community policing and community safety partnership. Policing like we all know is more about strategy and technology but there are other factors that come to play such as logistics and all that but when there is a clear-cut strategy backed with the right technology, then the war against crime would be won."
He called for increased manpower and a system to stop the practice whereby people spread fear through social media, as well as legislation to compel all businesses to install CCTV cameras within their premises.
On his part, Governor Akinwunmi Ambode of Lagos State, there was  need to examine the concept of collective vigilance in a Mega-City security system with stakeholders having defined roles and relationships from the primary levels of community security initiatives to tertiary levels in the state.
"This has become necessary because of the continuous influx of foreigners and people from other parts of the country, in their thousands, into Lagos State on daily basis. This has increased our vulnerabilities to threats of terrorism, transnational organized crimes, cyber and violent crimes of wider security dimensions," Governor said.
Represented  by Chairman of the State's Security Trust Fund, Mr Oye Hassan-Odukale, Ambode said: "Our human security focus has not only shaped our security architecture which is safety and civilian driven, from the primary to tertiary levels, but also guided our choice of infrastructural development projects and directly improves the life of Lagosians."
"A further analysis of our efforts indicates that less time now spent in traffic by motorists based on our transport sector reforms, better roads to increase the lifespan of vehicles, affordable housing programs, functional health care and education services, as well as employment generation value chain, have all enhanced the well-being of Lagosians. These efforts have indeed reduced all shades of criminalities in the State."