IN what seems like a season of remorse and confessions from top elements of the former ruling Peoples Democratic Party, PDP, a former Deputy President of The Senate, Ibrahim Mantu, confessed on live television that he helped rig elections for the PDP. PDP had also in the same week through their National Chairman, Uche Secondus, apologised to Nigerians for their "misdeeds" during their 16-year rule.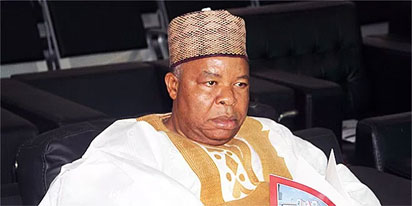 Though the PDP has already disavowed Mantu's confession of rigging for it, there is nothing about his disclosure that is new, apart from the fact that he owned up to it voluntarily with very little prompting by his interviewer.
The truth which is self-evident is that rigging is a form of corruption that underpins all elections in Nigeria. It does not matter that a PDP stalwart is confessing to it; it is a malaise that is common to all political parties and perhaps, political actors. No politician who has won elections in Nigeria will say he or she did not help himself or herself to the common malpractices of compromising the party delegates during primaries, security men, electoral officers, Independent National Electoral Commission, INEC, ad-hoc staff and even the electorate through monetary inducements.
Very few can say they have never hired political thugs to intimidate opponents, snatch ballot boxes or take ballot papers to secret places to thumbprint in order to obtain inflated figures they did not legitimately score. Politicians across the parties procure arms and deploy gunmen to shoot them to victory. They enlist under-aged voters and bribe judges at the electoral tribunals to award them undeserved victory. Rigging is so much a part of the electoral processes in Nigeria that people now say that politicians can only successfully rig where they are popular.
There have been calls from several quarters for Senator Mantu to be arrested and prosecuted by the security agencies. That may be an option. But we dare any politician who has won elections, whether serving or out of office, to cast the first stone.
For us, the issue is not who is a saint or sinner among the politicians on the issue of rigging or undermining the power of the electorate to choose their leaders through lawful processes. We must see rigging as a general malady in our body politic that needs to be eradicated. The only way to approach it is by ensuring that those who rig elections at whatever stage are brought to book. They should be arrested, prosecuted and sent to jail. Those who are already enjoying the fruits of their ill-gotten mandate should be made to vomit everything and still pay the appropriate penalties.
The prosecution and sanction of electoral offenders will gradually make rigging unattractive. That is the way forward.