RECENTLY, Governor Rochas Okorocha expressed umbrage that the Archbishop of Owerri Ecclesiastical Province, His Grace, Dr. Anthony J V Obinna made the following observations about him thus:"Governor Okorocha is the only voice which everyone has to listen to and obey, otherwise, arrests and imprisonments would follow".  In response to questions from reporters about  the same time,  the Cleric had said of the political and security ambiance Gov Okorocha has created in Imo state thus: "Things are so bad in Imo State that even when any group has police permit to stage a peaceful rally or protest, the government of the day will use coercion and brute force to deny them this fundamental right."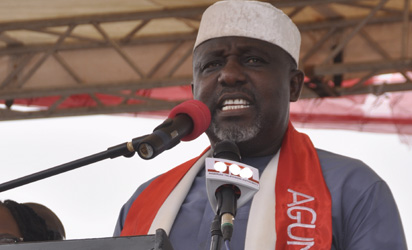 The governor calls the words of the ordained man of God blackmail. Why would a cleric, who has no pecuniary interest, has no worry about applying or losing a job position or appointment, and who will lose nothing except the liberty and wellbeing of his congregation and other constituents of Imo have a need to blackmail a two term sitting governor? The contention on the liberty of Imo people is a reminder to re-examine the links between the democracy we  practice in Nigeria and the underlying assumptions of what it offers in reality.
John Stuart Mills, one of the most erudite philosophers on the basic assumptions of democracy and representative government linked liberty strongly with the expectations of democracy. In his treatise "On Liberty", he asserted that in the past, liberty meant primarily protection from tyranny. Over time, the meaning of liberty changed along with the role of rulers, who came to be seen as servants of the people rather than masters.
Mills identified three types of liberty, each of which must be recognised and respected by any free society. First, is the liberty of thought and opinion. The second is the liberty of tastes and pursuits, or the freedom to plan our own lives. Third, there is the liberty to join other like-minded individuals for a common purpose that does not hurt anyone. It is in recognition of the right to Liberty and other fundamental rights of Nigerians that the Nigerian Constitution as amended in Chapter IV provides for the fundamental human Rights for Nigerians, constitutional rights which are superior to any other laws made by any individual. In particular, on the different dimensions of liberty as identified by Mills, the Nigerian constitution states: "Every person shall be entitled to his personal liberty and no person shall be deprived of such liberty" (Section 35); Every person shall be entitled to freedom of expression, including freedom to hold opinions (Section 39); Every person shall be entitled to assemble freely and associate with other persons or political party (Section 40).
The highest Court in Nigeria further reinforces the importance of these rights when it stated that: "fundamental rights are important and they are not just mere rights, they are fundamental. They belong to the citizen. These rights have always existed even before orderliness prescribed rules for the manner they are to be sought." (Saude V Abudullah (1989) 4 NWLR Pt. 116 page 387@419).
On the basis of these fundamental axioms, it is a political and social trigger that democracy is in retreat whenever liberty is in decline. The reproach of Archbishop Obinna by Governor Okorocha must therefore be taken very seriously by every lover of democracy and the protection of the fundamental rights it offers. Any attempt to abridge these rights which goes unchallenged is an invitation to anarchy and provides further incentive and justifications for authoritarian alternatives which point to the type of emerging scenario in Imo state as the pitfalls of democracy. For instance, The Economist  in a recent  essay  "what has gone wrong with democracy" cited  the failings that is emerging in Imo state as the arguments advanced by authoritarian governments such as China to deprecate the democratic model, by insisting that democracy allows  certain sweet-talking politicians to mislead the people, institutionalise gridlock, trivialise decision-making and throw up second-rate leaders, hence many developing countries that have introduced democratic Western values and political systems are experiencing disorder and chaos.
Accepting that the underlying tenets of democracy has been debased, the essay illustrated democracy's decline with Russia, where Mr. Putin, "the postmodern tsar has destroyed the substance of democracy in Russia, muzzling the press and imprisoning his opponents", while preserving democracy as a show where everyone can vote, so long as Mr. Putin wins. Further exemplifying similar decline, it is stated that "autocratic leaders in Venezuela, Ukraine, Argentina and elsewhere have followed suit, "perpetuating a perverted simulacrum of democracy rather than doing away with it altogether, and thus discrediting it further".
The latter description of the declining trend of democratic praxis, a "perverted simulacrum of democracy", is what Governor Okorocha is trying to enact on the very learned and politically conscious people of Imo state, where expectations are high that decent public participation and  decorous political competition will allow the people to choose the type of leader who will not only direct the course of socio-economic activities to improve their welfare but will also return the state to a place  that does not dignify  discredited leaders in their own country with  statutes and public awards that the people of Imo state hold in high esteem.
Expectations are therefore high in Imo state that credible, decent and competent leaders will enter the governorship race in Imo state in 2019 to give the people, the voting public inspired reasons to troop to the polling units to prove to Governor Okorocha that what democracy offers the people of Imo state cannot be taken away by him or his goons. This writer is hence highly inspired to hear that a decent, humble but very competent and seasoned manager of men and resources such as Stanley Amuchie may be contesting in the race. One will definitely like to lend audible voice to encourage all those who have urged him to run and bring decency to the political competition for the State House in Owerri in 2019.Mr. Amuchie, who has a background of disciplined Management, having gone through renowned institutions including the University of Benin, The Leeds Beckett University, United Kingdom, Insead Business School in France and Harvard Business School in USA is clearly needed to change the decline democratic practices in Imo state.
, as contemporary experience has shown in Anambra and the young man in Akwa lbom state with similar background in the management of men and resources, where the grassroots potentials are increasingly being unleashed by sustained fiscal and socio-economic discipline. If the admonitions that Archbishop Obinna is calling the attention of Imo people to, will not be in vain, and the expectations for socio-economic development which has been dashed in the past eight years must be revived, Imo state needs a clean and clear break from anything associated with the democratic decline of the outgoing government.
Dr. Michael Irukwu, a public affairs commentator wrote from Owerri, Imo State.