Paul Pogba says he is "judged differently" from other Premier League midfielders after a frustrating season that has seen him dropped by Manchester United manager Jose Mourinho on several occasions.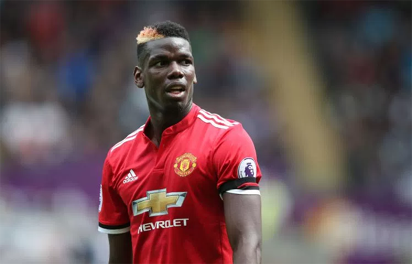 The Frenchman was widely criticised for a lacklustre display in this month's 1-0 home loss to West Bromwich Albion that handed the title to Manchester City — the latest in a long line of disappointing efforts from the former Juventus star since his move to United two years ago.
There was even talk that Mourinho had told United to put Pogba up for sale, just days after City manager Pep Guardiola said he had been offered the chance to sign the midfielder by his agent in January.
But the 25-year-old has produced some improved displays in recent weeks, including a man-of-the-match performance in the comeback win at Manchester City and is looking for more of the same when Arsenal visit on Sunday.
"It's quite funny because we don't judge me on the midfield part," Pogba, who joined the club for a then world record fee of £89 million ($123 million), told Sky Sports.
"We judge me on assists and goals and that's the truth. I can make an outstanding game, but if I don't score or make an assist they will say, 'that is normal', or whatever.
"But if someone else does it, it is different. They will maybe be man of the match. I think I'm judged differently, but it's good."
The France international, who has scored five goals and made 10 assists in the Premier League this season, said he saw the criticism as a challenge and it helped him improve.
"I don't take it in a bad way," he said. "I'll try to score and make assists and that's it. I still want to do my job in midfield.
"If I can help the team in attack and defence and make a difference I will do it. If I can score and assist it is even better."