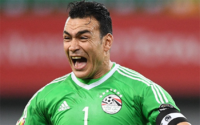 El-Hadary
Egypt goalkeeper Essam El-Hadary, who at 45 could become the oldest man to play at a World Cup, says he hopes his story inspires others to follow their dreams.
El-Hadary is desperate to make Egypt's squad for Russia where he hopes to make his World Cup debut.
"I'm very happy to play at the World Cup, and that is a message to all footballers and others around the world, that you should believe in your dreams and fight to make them come true," El-Hadary told BBC Sport.
"My age is 45 years old, but for me, this is just a number on paper.
"I train hard every day, I don't know what the word 'impossible' means. I will keep fighting until the World Cup to have the chance to play and defend my homeland colours," he added.
Faryd Mondragon of Colombia became the oldest man to play at the World Cup when he featured against Japan in Brazil in 2014 aged 43 years and 3 days. El-Hadary, who currently plays for Al-Taawoun FC in the Saudi Professional League, says his late father's memory is pushing him to break that record.