By Prince Okafor
Diamond Bank Plc has disclosed that it is currently targeting additional one million customers in its database in the next one year through the introduction of its new digital financial platform, DreamVille.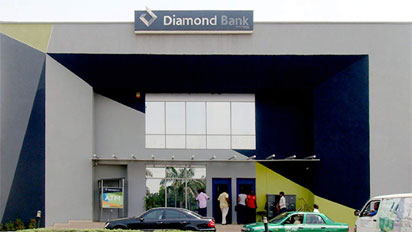 DreamVille was developed by a technology company known as Gamsole.
The bank also disclosed that it currently has a customer base of 15 million but wished to grow this to 16 million in the next one year.
Speaking during the launch of DreamVille in Lagos, the Managing Director of the bank, Mr. Uzoma Dozie, said the digital educational platform will empower students with technology skills that are needed to drive today's digital economy.
He stated that the technology will equip youths between the ages of 13 and 35 with the necessary skills to become better employees in the corporate world.
He added that Dreamville would not only perform the functionality of promoting financial literacy, but will also help in managing customers' lifestyles.
Meanwhile, the Head, Youth Segment, Diamond Bank Plc, Adaeze Umeh, said the simplified digital financial platform will enable youths to plan their financial future, save, chat, and update their financial knowledge while playing games.
"The financial service known as Dreamville, does not only enable youths to learn and develop a healthy savings habit and build prudent expenditure profile but also helps customers understand diverse investment portfolios, link their respective accounts with social media channels and chat with friends."
Ryan Newton, Manager for Strategic Advisory at Women's World Banking, who was a guest at the launch added that the service will enable youths to build financial capability that will serve as a foundation for banking successfully when they become adults.
"By using a gamified platform, we not only drive engagement with youth, but we help these young clients build their financial capabilities and set them up for long-term success."
The New Business Lead at Gamsole, Mr. Ayodeji Omole said: "The platform has account features, animations and videos, comics and games, integrated with social media platforms," he added