By Ola Ajayi
IBADAN — THE face-off between the Governor of Oyo State, Senator Abiola Ajimobi, 21 new kings and the Olubadan of Ibadanland, Oba Saliu Adetunji and former Governor Rashidi Ladoja over the review of 1959 Olubadan chieftaincy declaration deepened as a member of the Association of Mogajis of Ibadanland has asked the Oyo State Police Command to arrest Chief Wale Oladoja for allegedly causing disunity and civil disorder.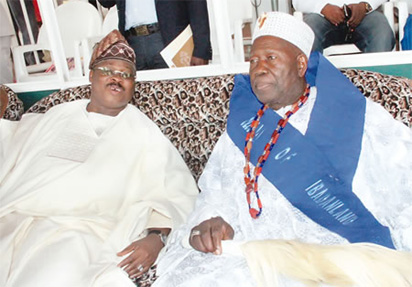 The community leaders, who are sympathetic to the 21 new kings, said this in a statement in Ibadan while reacting to a report credited to Oladoja.
Oladoja had said: "Ibadan Mogajis kick over continued 'defiance' of court judgment by the sacked Obas."
In a statement jointly signed by the Chairman and Secretary of Ibadan Mogajis, Chiefs Asimiyu Adepoju and Isiaka Raji Elegbaowo respectively, they maintained that the group claimed by Oladoja as 'Authentic Mogajis', "is a faceless entity."
The association said: "It must be put on record that the so-called authentic Mogaji is a faceless entity in as much as it is not known to law. It should be noted that Wale Oladoja has no locus standi to make the pronouncement for some reasons.
"He is not a party to the suit between High Chief Rasheed Ladoja versus Governor of Oyo State and others and he was speaking from the point of ignorance since the ruling of the court is specific and at variance with what Wale Oladoja is canvassing.
"The case is already in the Court of Appeal and therefore, Wale Oladoja's pronouncement is subjudice and he is, therefore, guilty of contempt of court. We hereby call on the police to move in and get him arrested and should be made to explain why he intends to cause civil confusion in respect of a case the appeal is pending in the Court of Appeal."
The Ibadan Mogajis stated that "when a judgement is given and the respondent appeals, it means the respondent disagreed with the judgement and as such, both the claimants and respondent should maintain status-quo in which case, there is no winner, no vanquished.
"In this case, the Obas remain so until the final determination of the Court of Appeal. This means the Obas will continue to enjoy all the necessary paraphernalia of office i.e. wear their crowns, collect salaries, allowances, ride their cars since they remain Obas until the Court of Appeal finally determines otherwise," the Mogajis stated.
The association is of the view that the judgment being referred to by Oladoja was rendered nugatory because the deeds had been done already before the judgement.
It insisted that the court was asked to stop the governor from constituting Justice Boade Panel of Enquiry, whereas the panel had already been constituted before the judgement.
The Ibadan Mogajis maintained that the statement credited to Chief Oladoja "is motivated and seriously intended to cause a breach of the peace and civil disorder in Ibadanland. No Oba was sacked and the Obas appointed and inaugurated by His Excellency, Sen. Isiaq Ajimobi remains and they will continue to enjoy and act as Obas unless otherwise decided by the Court of Appeal."