Ex-internationals, Henry Nwosu and Tajudeen Disu have commended 1984 Nations Cup silver medal winner, Paul Okoku for donating 20, 000 textbooks to 40 schools in Delta State.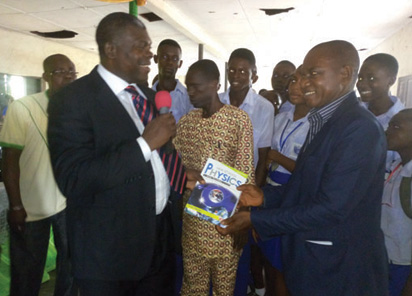 The Greater Tomorrow Children Foundation (GTCF), founded by Okoku, last week, partnered with Hon. Ossai Nicholas Ossai, a House of Representatives member, representing Ndokwa and Ukwani , to donate free textbooks to some primary and secondary schools pupils from three local government areas, Ndokwa East, Ndokwa West and Kwale .
The event, which held in Kwale, was graced by some ex-internationals like Henry Nwosu, Tajudeen Disu and Edema Fuludu, all of whom are ambassadors of the GTCF, which is a non-political charity-based body that is willing to partner with corporate bodies and individuals to improve the lives of kids and less-privileged persons in the country.
Speaking with reporters, Nwosu, a 1980 Nations Cup winner, said the donation of free textbooks to the schools was going to improve the quality of education of the pupils and students.
"This is a move which I believe will contribute to the academic success of the students and I commend Okoku and Hon. Ossai for making this dream come into reality", said Nwosu.
In his own reaction to the goodwill gesture extended by the GTCF and Hon. Ossai to the 40 schools in Delta State, another ex-international, Tajudeen Disu remarked that such voluntary donation by well-meaning individuals was necessary in revamping the country's falling educational standards.
"We need to concerted efforts along this line to address the problems facing our educational system. What Okoku has done through the Greater Tomorrow Children's Foundation is the signpost of how to get the society back on the right track", Disu said.